Find Your Ideal Holiday With
Latest all-inclusive holiday offers in Lanzarote
Check out these great hotels in Lanzarote
All Inclusive Holidays In Lanzarote Guide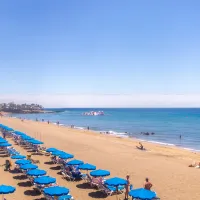 Discover Lanzarote
This Canary Island is the most northern of the islands with flights from the UK taking just over 4 hours. Lanzarote enjoys year round warm weather making it great for a summer holiday with the family, or an adults only winter sun escape in 2023/2024.
Family Holidays
Lanzarote truly is a family friendly island which is why all inclusive holidays to Lanzarote are so popular amongst British families. You can even find family rooms and free child places on thousands of holidays. While there's plenty of self catering apartments and villas, it's the large kid friendly resorts which make this place so special, giving families (and couples), the opportunity to truly relax when they come here on holiday. Take a look at family hotels like the TUI BLUE Flamingo Beach, or the Holiday Village Lanzarote, both of which cater really well to families, or make sure you find a hotel with waterslides or enjoy a day out at a water park for the ultimate in family fun.
Adults Only
There are a bunch of great all inclusive adult only resorts in Lanzarote, including popular places like the H10 Timanfaya Palace in Playa Blanca and the Secrets Lanzarote Resort & Spa in Puerto Calero. Alternatively, some larger family orientated hotels may have a dedicated adults swimming pool, restaurant, or area of the hotel, allowing you to enjoy the facilities, but still enjoying a grown up escape.
What To Expect
At the very minimum, an all inclusive package will include flights and accommodation with your main meals (breakfast, lunch and dinner) included, as well as drinks during meal times. However, all tour operators and hotels vary and may offer something different, like 24 hour dining, premium alcohol brands (often classed as all inclusive plus) at the bars, snacks and ice creams during the day, or other extras like airport transfers and check-in luggage on your flight. Generally things like the kids' club and evening entertainment will also be included, as well as some water sports activities, but always check before hand to avoid any surprises.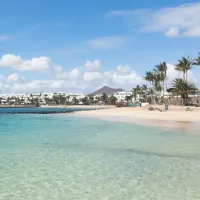 Popular All Inclusive Resorts
While Spain is well known for its all inclusive offering, Lanzarote is right there in the thick of it. From Puerto Calero to Puerto del Carmen, there's lots of destinations in Lanzarote to choose from. Here are a few of our favourites:
Costa Teguise
The Costa Teguise, just north of Arrecife on the east coast is such a fantastic holiday destination. Centralised around the Playa de las Cucharas beach, the resort is home to lots of self contained all inclusive hotels including favourites like the Occidental Lanzarote Mar, Bluebay and Hotel Grand Teguise Playa. For the best inclusive experience, why not book an accommodation package with Aquapark tickets, which is a great way to spend a day with the kids.
Playa Blanca
Usually popular for villas and holiday homes, if you love to combine the beach with an all inclusive hotel, Playa Blanca is just for you. Located on the very southern tip of the island, you've got busier sandy beaches like Playa Dorada and Playa Blanca, as well as much quieter beaches like Playa Mujeres and Playa de Montana Roja so you really do have your pick. Take a look at the H10 Rubicon Palace and Elba Lanzarote Royal Village Resort.
Puerto del Carmen
One of the closest resorts to the airport, there's loads going on in Puerto del Carmen. This is the place to come if you want lots to do and plenty of nightlife. While it's popular with plenty of cheap self catering apartments, take a look at the Hotel THB Flora and Relaxia Lanzaplaya if you prefer having your food included.
Popular Holiday Companies To Lanzarote
As always, and in light of events like Covid 19, we recommend booking Lanzarote holidays with leading travel companies which are protected by the ATOL scheme or are ABTA bonded and take out comprehensive travel insurance. Making sure your booking is financially protected is so important, and you should always check the terms and conditions when you book, as well as checking the latest travel advice for Lanzarote from the Foreign Commonwealth & Development Office.
TUI & First Choice Holidays
TUI and First Choice are your typical tour operator to the Canaries. First Choice, once known as the home of all inclusive, now offers more variety amongst their portfolio of hotels, but one of the great things about both brands is that you can also add on extras such as waterpark tickets, boat trips and excursions into Timanfaya National Park to see the lava fields.
Jet2holidays
With flights from Birmingham, Edinburgh, Belfast and many other UK airports to Spain, there are plenty of options for a break in Lanzarote with Jet2holidays, and when you book your flight and hotel together, not only will your booking be ATOL protected, but you'll enjoy extras like luggage allowance, seat selection and airport transfers. Cheap all inclusive holidays are often best when everything is packaged up.
easyJet Holidays
Providing flight inclusive holidays from a number of airports, easyJet flies to the Canary Islands with Lanzarote as one of its top destinations. Whether you're after 7 nights near Playa de los Pocillos or 3 days by the pool, take a look at the package deals on offer.
Booking Separately
You can, of course, choose to book your flight and hotel separately, which may initially save on costs, particularly if you're flying with Ryanair or another low cost airline. Booking.com, Expedia and the individual hotel websites all allow you to book all inclusive options, but it can often be better to book as a package once you've added in costs like airport transfers or car hire.
Popular All Inclusive Destinations