Latest holiday deals in Costa Dorada
Popular Costa Dorada Resorts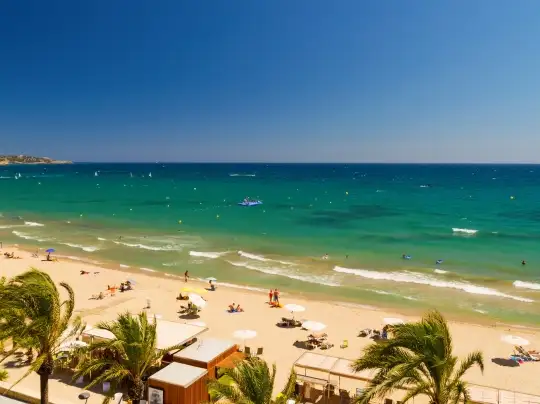 Salou
One of the most popular holiday resorts along the Costa Dorada, Salou offers budget breaks in the sunshine.
EXPLORE SALOU
Costa Dorada Destination Guide
A Guide To Holidays In Costa Dorada
The Costa Dorada (also spelt the Costa Daurada) is a stunning region of Spain that offers the perfect holiday destination for all kinds of travellers. The direct English translation is the Golden Coast and it's easy to see why. From its beautiful beaches to its vibrant culture, there is something to suit everyone. Whether you're looking for a relaxing break or an action-packed adventure, this guide will help you make the most of your time in the Costa Dorada. Learn about the best activities, attractions and places to visit, as well as essential tips on where to stay and how to get around. With this guide, you'll be able to create an unforgettable holiday experience in one of Spain's most popular destinations.
Getting to, from and around Costa Dorada
Reus Airport is the main airport here, although you can fly into Barcelona too. Direct flights from the UK take around 2 hours 15 minutes, with most being seasonal, between April and October, to suit the popularity and warm weather in the summer months.
You might find that airport transfers are automatically included in the cost of your holiday, or you can add them on. This is usually the best way to get between the airport and your accommodation. Taxis are also an option but can cost extra.
Car Hire
Hiring a car, either from the airport or from your accommodation, can be a great way to explore the Costa Dorada in your own way. Whether you want the freedom of being able to head to the supermarket whenever you need, or simply want to find some of the regions' quieter beaches, car hire can be very affordable here.
Things To Do In Costa Dorada
There are lots of things to do in the Costa Dorada. Of course, if all you want to do is laze by the pool and enjoy the sunshine on your face, then that's okay too! If you do fancy doing something else though, head to the beach for some fun on the golden sand, or for an epic day out, head to Aquaventure which is home to a theme park, Ferrari World and a water park.
Where To Stay In Costa Dorada
There are a couple of main resorts you will want to stay at in the Costa Dorada. Salou is one of the most popular and perhaps considered a smaller version of Benidorm. Here you'll find budget friendly accommodation, ranging from self catering to all inclusive, along with plenty of bars, restaurants and nightlife to keep you busy in the evenings.
Cambrils is another excellent holiday resort on the coast. Located a bit further south, Cambrils is a smaller town, a little quieter than Salou but still offering a great holiday option.
You might like these hotels in the Costa Dorada
Popular Holidays