Find Your Ideal Holiday With
Top Hotels With Waterparks In Turkey
Turkey Waterpark Holidays & Hotels
Turkey is such a fantastic destination, with plenty of all inclusive resorts and self catering villas, but there's one thing people come back for year after year, their waterpark holidays to Turkey. The Turkish coastline is dotted with wonderful seaside resorts and towns, from the quieter villages which are hidden away, to the expansive towns of Bodrum and Antalya. It's a brilliant holiday destination in 2023 & 2024.
Best Water Parks In Turkey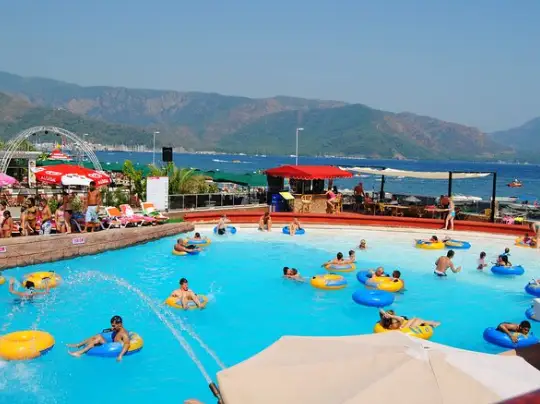 Atlantis Waterpark, Marmaris
Close to the centre of Marmaris and next to the beach, Atlantis Waterpark is a great day out for families, groups and couples. It is a little smaller, but is easily accessible from many of the hotels in Marmaris.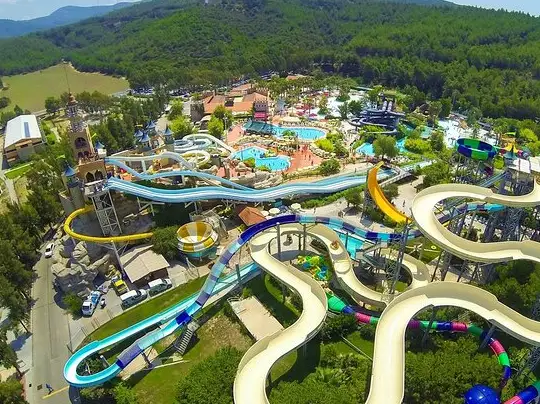 Aqua Fantasy Waterpark, Kusadasi
Aqua Fantasy is a very popular waterpark and one of the largest in Turkey. There's also a hotel attached, so you can enjoy the thrills of the rides and slides as many times as you want during your stay.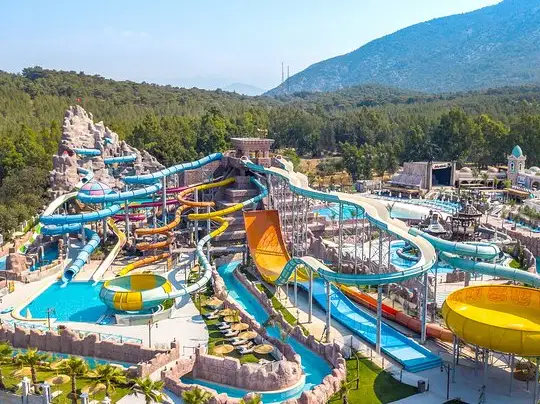 Orka World, Fethiye
Orka World is both a hotel and a water park with accommodation options including swim up rooms. The aquapark can be booked separately and has a huge range of slides, attractions. lazy river and a wave pool.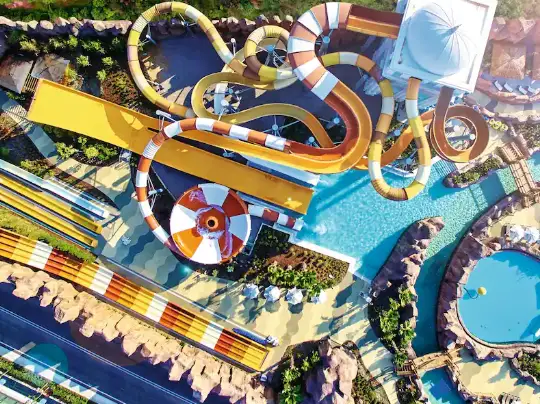 Land Of Legends, Belek
Land Of Legends is more than just a water park, it's a theme park and hotel too, ensuring those who hate to just sit by the pool on holiday, are very well catered for.
Turkey Waterparks Holiday Guide In 2023/2024
Popular Resorts & Hotels With Waterparks
Many of the resorts here are self-contained meaning you don't have to step a foot outside the complex to enjoy your holiday if you don't want to, although we always suggest exploring the local area or heading to the beach for a cheeky day away from the pool.
Antalya
Antalya's coast features popular areas like Belek and Side which offer a whole host of resort style accommodation. Such big complexes mean there's several outdoor pools, plenty to do on-site, and with a number of them, there's also a waterpark on-site too. If your hotel doesn't have a waterpark, fear not, take a trip to popular parks like Aqualand Antalya Dolphinland. Popular waterpark hotels around Antalya include the Delphin Palace and Limak Lara De Luxe Hotel & Resort. Big resorts along Lara Beach also have smaller plash parks which might also be worth looking into.
Bodrum
If it's Bodrum you're heading to, take a look at popular hotels like La Blanche Island Resort, a beautiful resort set on the Mediterranean coastline just north of the city. And if you don't have any waterslides or splashparks at your hotel, simply jump in a taxi and head to Bodrum Aquapark for a fun day out on the slides and rides.
Dalaman
In Dalaman, in areas like Marmaris, Fethiye and Icmeler have lots of great smaller hotels with outdoor swimming pools, but being smaller, means they don't have any slides. But don't worry as you can always then buy tickets to the various waterparks in the region like Water World Waterpark or Orka World Thema Park in Fethiye or Aqua Dream Water Park in Marmaris, which is Turkiye's largest water park. Hotels like the Green Nature Resort & Spa and Club Tuana also have their own mini waterparks.
Izmir
Izmir has two main holiday resort areas, Kusadasi and Ozdere, with a range of accommodation options, ranging from self catering apartments to sprawling all inclusive luxury resorts with a private beach. It's here you'll find popular hotels like Pine Bay Holiday Resort, Atlantique Holiday Club, which has direct access to Tortuga Pirate Island Aqua Park, and Ephesia Holiday Beach Club which sits on the beachfront with a splash park and slides.
Independent Waterparks
Another great way to enjoy a splash-filled holiday is to book a your hotel, and then tickets to the nearest waterpark. This may work out cheaper, but if you plan to go on the waterslides and rides everyday, this may not be for you.
Adaland Aquapark, Kusadasi
Located just north of Kusadasi is Adaland Aquapark. Open from mid-May through to September, this exciting water park has a big range of rides and slides including a wave pool, activity pool, rafting, surfing and so much more.
Atlantis Waterpark, Marmaris
If you're stayin in or around Marmaris between May and October, just off the beach is Atlantis Waterpark. Although it might be considered a bit smaller than others, it still packs a punch with a small wave pool, kids area and a number of fun waterslides, including flumes and a wild river.
Water Hill Aquapark (Formerly Aqualand)
Waterhill Park is located next to the Aquarium and Hotel Su in Antalya. With lots of slides, a children's splash park and wave pool, this can be a great day out if you're on holiday in Antalya or if you're staying in a cheaper hotel which doesn't have a pool.
Popular Holiday Brands
Top brands like TUI, First Choice and Jet2holidays all offer ATOL and ABTA protected package holidays to Turkey with waterparks. For the best advice, pick up the phone and give one of their teams a call to discuss which resort and hotel is best suited to you, as you might want something different for all inclusive, compared to a self catering stay. If your hotel doesn't have a waterpark, you may be able to book tickets to the nearest park when you book your holiday, otherwise your in-resort holiday rep, or hotel staff will be able to help you organise a trip.
All Inclusive
One of the best ways to ensure you stay within your budget is to go all inclusive. While this might cost more initially, once you're in resort pretty much everything is paid for and with waterpark hotels, you'll usually find that entrance to the water park or theme park is included. Certain activities like motorised watersports or premium alcoholic drinks are usually not included.
Great Hotels In Turkey With Splash Parks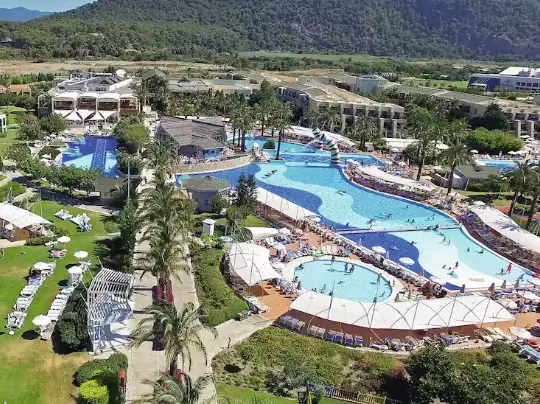 Popular Holidays