A Krakow City Break Guide
Krakow, a city steeped in history, culture, and vibrant energy is an incredible place for your next escape in 2023 or 2024. As you step into the cobblestone streets of this Polish gem, you'll be transported to a world where medieval charm meets modern vitality. From the stunning architectural marvels of the Main Market Square in the Old Town, to the poignant reminders of a tumultuous past at Oskar Schindler's Factory, Krakow is a city brimming with stories waiting to be discovered. In this guide, we'll unveil the secrets of this enchanting city, guiding you through its essence, helping you create unforgettable memories on your Krakow city break, one of the most popular holiday destinations in Europe.
Hotels In Krakow You Don't Want To Miss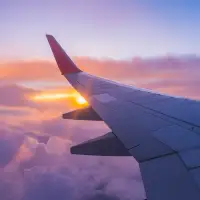 Getting to, from and around Krakow
There are two options for flying to Krakow, Krakow Airport (John Paul II Airport), about 11km west of the city centre, and Katowice Pyrzowice Airport, about 35km north of the city. Katowice is generally served by low cost airlines like Wizzair, while Krakow Airport is served by a variety of airlines including British Airways, Ryanair and easyJet. Package holidays to Krakow are also a great ideal with tour operators like Jet2CityBreaks and TUI who are both ABTA and ATOL protected. You'll often find this can be a cheaper city break destination, with budget friendly options for just a night or two.
Getting Into The City
The Krakow Airport Express bus provides a convenient and affordable way to reach the heart of Krakow city from both airports. Taking a taxi directly to your hotel is more convenient but will naturally cost more. And car hire is an option, especially if you're looking to venture out of the city and visit places like Auschwitz, but if you're just staying in the city, public transport and taxis are easiest.
Getting Around
Krakow's well-developed public transport system means travelling around is pretty easy. A 24 hour or multi-day travel pass makes life much easier and if you use it enough, can be a great way to save money. The city's compact size also makes it perfect for exploring on foot too. Walk through the Old Town's charming alleys and take in the sights and sounds of this historical wonder, however, the cobbled streets might not be suitable for wheelchair users or pushchairs.
When To Go
To make the most of your Krakow city break, consider visiting during the spring (April to June) or early autumn (September to October). The weather throughout Poland during these seasons is pretty good, and there are often far fewer tourist, allowing you to enjoy the city's attractions at a more relaxed pace. Avoid the chilly winter months if you're not a fan of the cold, as temperatures can drop significantly, but Prague is the perfect place for a Christmas market break.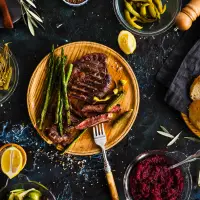 Things to do in Krakow
Wawel Royal Castle
Explore the storied halls of Wawel Royal Castle, the former residence of Polish kings. Marvel at the grandeur of the State Rooms, visit the Wawel Cathedral, and wander through the castle's picturesque courtyards and gardens. Don't miss the panoramic views of the city from the castle hill, offering a breathtaking perspective of Krakow's beauty.
Rynek Glowny
Visit the Rynek Glowny, the bustling Main Market Square in Stare Miasto (Krakow Old Town), and soak in the vibrant energy of Krakow. Admire the stunning architecture of the Cloth Hall and the iconic St. Mary's Basilica. Grab a coffee and people watch at one of the square's charming cafes, or sample local delicacies from the market stalls. Be sure to catch the hourly bugle call from St. Mary's Basilica for a truly Krakow experience. You'll find plenty of bars and restaurants here too.
Auschwitz-Birkenau Memorial & Museum
Pay homage to history at the Auschwitz-Birkenau Memorial and Museum, a poignant reminder of the atrocities of World War II. Take a guided tour to understand the significance of this solemn site and pay respects to the millions who perished. It's a profound and incredibly insightful and sombering experience that sheds light on the importance of remembrance and resilience.
Kazmierz District
In this part of the medieval city, immerse yourself in the vibrant cultural scene of the Kazimierz district, Krakow's former Jewish quarter. Visit the Galicia Jewish Museum, historic synagogues, explore contemporary art galleries, and sample traditional Jewish cuisine as you walk through this area of Krakow. Uncover the district's rich heritage through guided tours that delve into the history and cultural significance of this dynamic neighbourhood. You can book a range of tours in advance for the best availability.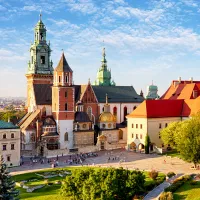 Where to stay in Krakow
The Old Town / Stare Miasto
Take in Krakow's rich history by staying in the Old Town, where you'll be surrounded by medieval architecture, lively squares, and quaint cafes. The Main Market Square, the Cloth Hall, and St. Mary's Basilica are just a stone's throw away, ensuring you're never far from the city's pulsating heart. You might pay a little bit of a premium being so close to the main attractions but it can save on travel costs, especially on a city break with kids.
Kazimierz
Experience the bohemian atmosphere of Kazimierz, Krakow's former Jewish district. This vibrant neighbourhood is now a hub of artistic energy, boasting eclectic art galleries, trendy cafes, and bustling nightlife. Stay in one of the boutique hotels or bed & breakfasts that reflect the district's unique character and enjoy exploring the district's rich cultural heritage too. You'll also find a range of aparthotels and private apartment accommodation available on websites like Booking.com and Airbnb which can be a fun way to settle into city life.
Podgorze
For a quieter stay away from the tourist hustle, consider Podgórze. This district, located on the opposite side of the Vistula River, offers a more laid-back ambiance, with leafy parks, historic sites like Oskar Schindler's Factory, and panoramic views of the city.
Wawel
Indulge in regal vibes by staying in the vicinity of Wawel Castle, a symbol of Poland's royal past. This area offers a serene atmosphere, with the lush Wawel Hill providing a picturesque backdrop. Enjoy the blend of history and tranquility, with options ranging from elegant hotels to boutique accommodation, ensuring a luxurious stay in Krakow.
Nowa Huta
For a unique experience, venture to Nowa Huta, a district built during the communist era. Embrace the nostalgic charm of the socialist architecture and immerse yourself in the local culture.
Salwator
Escape the urban bustle by staying in Salwator, a peaceful district nestled along the Vistula River. Enjoy the tranquility of this area, with its scenic river views and serene parks. Choose from a range of accommodation, including riverside hotels and cozy B&Bs, offering a serene haven after a day of exploring Krakow's bustling streets.
More Popular Escapes