Cheap holidays from Liverpool Airport
Latest holiday offers from Liverpool Airport
Great holidays from Liverpool
It's lovely to be able to jet off from your local airport, so if you live around Merseyside, holidays from Liverpool in 2023 & 2024 might be what you're after. With airlines like Ryanair, easyJet and Jet2 all offering flights to fantastic holiday destinations including Greece, Turkey and Spain, there are loads of great options for your next getaway whether it's a city break with a difference, or a warm escape to the sunshine.
Popular Holiday Destinations From Liverpool Airport

Airlines from Liverpool Airport
There are now quite a few airlines flying from Liverpool airport, with Jet2 flying from the airport to a range of destinations from 2024. While low cost airlines like easyJet and Ryanair fly to your typical city break destinations like Rome, Porto and Madrid, you can also jet off to beach holiday destinations such as Majorca, the Costa del Sol and Tenerife. Note that TUI do not fly from Liverpool.
Other airlines include Blue Air to Bucharest, Wizzair to several eastern European cities like Budapest and Warsaw, as well as Aer Lingus and Loganair flying to certain domestic and Irish destinations. You can actually fly from Liverpool to Dublin and onwards to the USA with Aer Lingus and when you do, you have the benefit of clearing immigration in Ireland, so your arrival in the US is much quicker.
Play, Wideroe and Lufthansa also fly from Liverpool.

Holiday Destinations from Liverpool
There are loads of great destinations from Liverpool, in fact there are over 150 direct and indirect destinations, including fab city breaks and gorgeous beach holidays. While you might be surprised to hear that there aren't direct options to places like Prague, Venice or New York, here are some of the most popular ones.
The Algarve, Portugal
The Algarve is an easy holiday destination, with flights from Liverpool to Faro taking a little less than 3 hours. Ryanair, easyJet and Jet2 all have the Algarve on their list of destinations at some point in the year, but be mindful there is a typical holiday season here so not all flights will be year round.
Ibiza, Spain
If you love to let your hair down, Ibiza is a brilliant holiday. Part of the Balearic Islands, Ibiza is well known for its pool parties and beach bars, but don't be fooled that that's all there is. You'll also find great family friendly resorts, as well as some quieter, hidden beaches dotted around the island too.
Lanzarote, Spain
For year round sunshine, Lanzarote in the Canary Islands is a very good option. Hot in summer and still fairly warm for most of the winter (and definitely warmer than the UK), like the other islands of Fuerteventura, Tenerife and Gran Canaria, Lanzarote has great hotels and resorts, beautiful beaches and plenty to see and do if you want to escape the confines of your hotel and pool.
Malta
Malta is a really good sun and city break destination. Although it does get a little cooler in the winter between October and April, the sun still shines a lot and you can combine spending time relaxing by the pool with a trip into the historic streets of Valletta.
Within The UK
There are direct flights to both Belfast and the Isle of Man, allowing you to enjoy a short escape without having to leave the country. You can also fly to Jersey in the Channel Islands to enjoy a bit more of the warmer UK weather.

About Liverpool Airport
Liverpool John Lennon Airport is located in the south of Liverpool in an area called Speke, and about 8 miles from Liverpool city centre, 25 miles from Chester, and 33 miles from Manchester city centre and . It's popular for those living around Merseyside, Cheshire and north Wales as another gateway airport for holidays.
Getting There
Driving & Car Parking
If you are travelling by car, there are a number of different short-stay and long-stay car parks both close to, and further away from, the terminal. It's usually best to book your airport parking in advance to get the cheapest rates. The long-stay car park also has rapid electric charging points too. The closest parking is the Fast Track Parking which can be booked in advance and also includes 2 fast track security passes too. The airport postcode is L24 1YD.
Public Transport
If you're travelling by public transport, the bus is a convenient way to get here, with services running to the airport including the Arriva 500 service which runs daily every 30 minutes between 4am and midnight between the city centre (including close to Liverpool Lime Street and Liverpool central train stations) and the airport. If you are travelling by train, the nearest railway station to Liverpool airport is Liverpool South Parkway which has buses direct to the terminal building.
Shops & Restaurants At The Airport
There are a number of shops and restaurants at the airport to keep you busy and full while waiting for your flight. Shops there include World Duty Free (of course), as well as Boots, WHSmith and JD Sports. In terms of places to eat and drink, you've got popular brands like Starbucks, Burger King and Frankie & Benny's, as well as independent outlets like the Kissing Gate, The Beer House and The Estuary Bar & Grill.
Aspire Lounge
If you're keen to start your holiday with a bit of luxury, why not treat yourself to the VIP airport lounge here which is the Aspire Lounge. Open between 5am and 8pm, the lounge serves a range of complimentary food and drinks, free WiFi as well as comfy seats and space to relax before your flight. Prebook your lounge access for the best rates.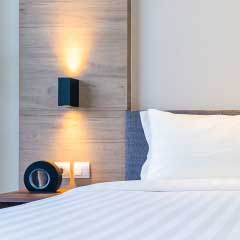 Airport Hotels
If you've got an early flight or just want to treat yourself and get your holiday started early, there are a couple of airport hotels nearby that you can check-in to.
Hampton by Hilton Hotel
The 3-star Hampton by Hilton hotel is just across the road from the terminal, making it easy to get up and check-in for your early morning flight. WiFi and breakfast are included and they even start serving breakfast from 4am for those who want to get a head start on the day. Interconnecting rooms are also available.
Premier Inn
The Premier Inn hotel is a short walk (about 300m from the terminal building), and there is a footpath the whole way, making it another great choice for a cheap airport hotel in Liverpool. Book direct on the Premier Inn website for the best price with double rooms, family rooms and accessible rooms all available.
Travelodge
The Travelodge is just short of a mile from departures so having a car is advised if you're staying here. Note that there is not a shuttle bus between this hotel and the airport. There is a paid for car park here which should be booked in advance.
Booking Your Holiday
Whether you're heading away on a quick city break, or you're planning to spend two whole weeks in the sunshine, booking the right break is important. Choose an ABTA or ATOL protected provider like Jet2holidays, easyJet Holidays or loveholidays for more financial protection. If you prefer to book your flight and hotel separately because Ryanair or Wizzair are the cheapest and you've found your perfect apartment on Airbnb, make sure you have comprehensive travel insurance.
More Popular Holidays