Cheap holidays from Newcastle Airport
Find Your Ideal Holiday With
Latest holiday offers from Newcastle Airport
Great holidays from Newcastle
If you live in the north east of England, holidays from Newcastle airport can be the perfect option to get away in 2023 & 2024. Year round flights, lots of great destinations, and plenty of facilities within the airport terminal building make it convenient and easy to escape. Here's our guide to enjoying a much needed escape from your local airport.
Popular Holiday Destinations From Newcastle Airport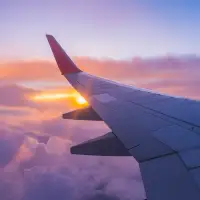 Airlines from Newcastle Airport
Low Cost Airlines
Low cost airlines from Newcastle can make it very affordable to travel with the usual suspects of Jet2, Ryanair and easyJet all with flights throughout the year. Certain seasonal destinations like Innsbruck, Rhodes and Ibiza may only be seasonal flights, so check to make sure what's available.
Sheduled Airlines
Loganair, Air France, British Airways, KLM and Emirates all offer scheduled direct flights to several destinations including Exeter, London Heathrow, Paris, Amsterdam and Dubai. With many of these, you can get onward flights to hundreds of destinations around the world, from San Francisco to Shanghai and everywhere inbetween.
Charter / Holiday Airlines
While Corendon Airlines and Freebird provide flights to Turkey, TUI Airways has seasonal and charter flights to many holiday destinations, including Sharm El Sheikh, Orlando and Jamiaca. There are plenty of beach destinations for you to choose from, although these flights might not be as frequent as at other larger airports.
Tour Operators
All the major tour operators offer holiday packages from Newcastle airport, including loveholidays, On The Beach, TUI and Jet2holidays, and all have some form of ABTA or ATOL protection. Naturally you can book your flight and accommodation separately, especially if you're flying with an airline liek Ryanair and you're struggling to find the right package holiday, adding on accommodation separately with Booking.com, Expedia or Airbnb. Make sure you take out comprehensive travel insurance, especially if you book the different parts of your trip separately.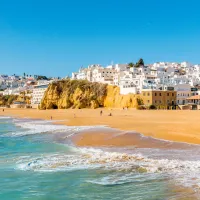 Holiday Destinations from Newcastle
With fantastic city break destinations like Dublin, Berlin and Rome, and fabulous beach destinations like Cyprus, Croatia and Cancun in Mexico, there is so much choice for your next trip. Here are a few of our favourite destinations from Newcastle.
The Algarve, Portugal
For a budget friendly holiday in the sunshine, the Algarve is an easy choice, lots of different types of accommodation, a short flight and great for families, couples and groups of friends. Stay around Vilamoura if you want to be close to the airport, or perhaps a quick city break in the sun in Faro might be up your street.
Benidorm, Spain
Another classic holiday destination Benidorm on the Costa Blanca is almost a home away from home...almost. Great beaches, bars, restaurants and loads to do make this an easy choice if you're looking for a cheap holiday in the sun. There are plenty of self catering options to keep the cost down too.
Crete, Greece
Head to any of the Greek islands and you'll certainly enjoy the sunshine, culture and hospitality that Greece has to offer. Crete has a great range of options from budget friendly accommodation to luxury resorts, to suit all travellers.
Antalya, Turkey
Fancy filling your boots? For an all inclusive holiday from Newcastle, head to Antalya and choose from the incredible all inclusive resorts on offer. Many offer huge swimming pool complexes, beachfront locations and even some of the best swim up rooms in Turkey. Bodrum and the Dalaman region in Turkey are also on offer.
Barbados
For some tropical sunshine, you can either fly direct to Barbados with TUI at certain times of the year, or you can get a connecting flight through Heathrow with British Airways. Barbados offers some truly unforgettable beaches, and some of the best in the Caribbean, and flying direct from Newcastle makes it even easier to enjoy a little bit of paradise.
Dubai, UAE
For year-round sunshine, Dubai is that ever popular holiday location. While the summer months of July and August can get sweltering, the balmy winter months between November and February can be a great option if you want to escape for a bit of winter sun. Why not enjoy a stopover in Dubai for 3 or 4 nights on the way to somewhere far flung, like Thailand or even Australia?
New York, USA
Although there aren't any direct flights from Newcastle to New York, you can get a connecting flight through London, Paris or Amsterdam, making a holiday in Manhattan a great option, even if just for a few nights to watch a Broadway show, munch on a hotdog and capture a glimpse of the State of Liberty.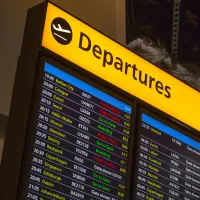 About Newcastle Airport
Getting There
Driving & Car Parking
There are several car parks at the airport depending on your needs and budget. Long stay parking, for example is 5-10 mins walk away and offers affordable and convenient parking no matter the duration of your travels. There's also Premium Fast Track with extra wide parking spaces, and Premium Meet & Greet, both of which are just a short walk to the terminal building.
Public Transport
Taking the Metro can often be the easiest way to take public transport to the airport and the Metro station is a short walk away. The airport is located at the far end of the South Hylton to Airport line, which goes through Sunderland, Heworth, Gateshead and Newcastle city centre (including Newcastle Central Station). It takes about 25 minutes from the city centre stations to the airport and start from around 5.30am until 11pm.
Shops & Restaurants At The Airport
Classic airport favourites like Greggs, Burger King, and Upper Crust are mixed with the Quaystone Bar & Kitchen and The Beer House for a drink or bite to eat before your flight. If it's some pre-flight shopping you love, World Duty Free is a must, while the convenient stores of Boots and WHSmith sit alongside fashion favourites JD Sports and Accessorize.
Aspire Lounge
The Aspire Lounge at Newcastle Airport is the premium lounge for guests flying business class or paying extra for access before your flight. The AspirePlus lounge is a dedicated quiet area and is adults only.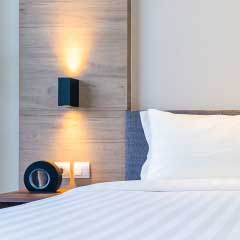 Airport Hotels
DoubleTree by Hilton Hotel
The 4-star DoubleTree by Hilton Hotel is the closest hotel to the Newcastle airport terminal building. With spacious rooms, comfy beds, free Wi-Fi and just a five minute walk from the terminal, this is a convenient option if you've got an early flight the next day.
Premier Inn
The Premier Inn Newcastle Airport hotel offers a great standard of accommodation, along with a Hypnos bed, free WiFi and a restaurant. This should not to be confused with the Premier Inn Newcastle Airport (South) hotel which is next to Callerton Parkway, a short drive away.
Britannia Hotel
The Britannia Hotel at Newcastle Airport is a budget friendly option about a 10 minute walk from the airport terminal. This 3-star hotel has WiFi, free overnight parking, a bar and restaurant as well as full service laundry.
Booking Your Holiday
Whether you're looking at year round sunshine in the Canary Islands, or a romantic escape to one of the gorgeous Greek Islands, booking a package holiday from Newcastle couldn't be easier. If you're in doubt, speak to a local travel agent, like Hays Travel, who will be able to help you book, or you can jump online and make your booking online through websites like loveholidays, Expedia or Jet2holidays. There are also some great ways to save money. Offers like discount codes and free child places are often available with certain travel companies, and don't forget that if you book far enough in advance, some also have a low deposit option too. Make sure to check the Foreign, Commonwealth & Development Office website for the latest travel advice and information about your destination before you book and travel.
More Popular Holidays