Holidays From Leeds Bradford Airport
Find Your Ideal Holiday With
Great holidays from Leeds Bradford Airport
Located in West Yorkshire, just north of both cities, holidays from Leeds Bradford Airport mean you can travel to some of your favourite destinations without having to travel hundreds of miles for the best flights. Flying in 2023 & 2024, great destinations include the Canary Islands, Greek Islands and Italy, as well as fun city break destinations like Dublin, Amsterdam and Barcelona.
Popular Holiday Destinations From Leeds

Airlines & Tour Operators from Leeds Bradford Airport
It's primarily low-cost airlines and holiday flights from Leeds Bradford Airport (LBA), which means if you'll looking for a city break or a beach holiday from Yorkshire, you're in luck! Aurigny, easyJet, Aer Lingus offer selected routes within the UK and Ireland, while, along with easyJet and Jet2, Ryanair, also offers a number of great city break destinations too.
Jet2 and TUI provide the majority of the direct flights to beach holiday destinations, with Ryanair also offering a few others too. Leeds is actually Jet2's primary base (it's where it all started for them), and with so many flights, they can offer package holidays including accommodation too.
If you're looking to head west to the USA, or over the Middle East and Asia, Aer Lingus and KLM offer indirect flights via their hubs, Dublin and Amsterdam respectively. From here, there are hundreds of onward destinations to be discovered including New York, Toronto, Dubai and Bangkok.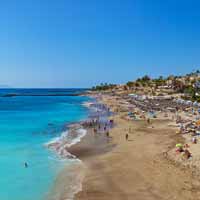 Holiday Destinations from Leeds
Scheduled daily and seasons flights means lots of exciting places to discover and enjoy. From the bars of Barcelona to the beaches of Bodrum, whether you're looking for a cheap short break in the city, or a 2 week family escape to the sunshine, here are a few of our favourite destinations:
Jersey, UK
An 85 minute flight takes you from LBA to the gorgeous island of Jersey in the Channel Islands. With its British and French influence, warmer weather and incredible scenery, you'll feel like you're on holiday yet still enjoy some of the home comforts of the UK.
Amsterdam, Netherlands
Hit the canal side streets on two wheels and enjoy some of the most iconic parts of this fascinating Dutch city. Take in as much as you can on a 1 or 2 night break, or enjoy the relaxed vibe and hit the parks in July and August for a more chilled city break.
Geneva, Switzerland
Great for both a city break and a gateway to the Alps, Geneva is an easy flight and popular for ski holidays during the winter months. It's also a lovely place for a quick Christmas market break just before Christmas. Flight prices can be quite cheap, but prices can be higher when you get there.
Algarve, Portugal
From Alvor to Altura, the Algarve is such a great holiday destination, whether you're planning a family getaway, romantic escape as a couple or hitting the bars and clubs with friends. Hit the beach in record time by staying in Vilamoura, just a 30 minute drive from Faro Airport, and it's main city, Faro, is also a great place to stay for a few days.
Majorca, Spain
Another great family friendly holiday from Leeds is Majorca. With bustling resorts packed with kids activities, golden sand beaches, and lots to see and do, Majorca can offer all you need for a few days in the sunshine. Try areas like Cala D'Or and Cala Millor if you prefer to be somewhere a little less busy.
Tenerife, Spain
Ideal for winter sun (and summer sun too), Tenerife really does offer something for everyone. Whether you enjoy the lively nightlife and bars of Playa de las Americas, enjoying a quieter resort like the Golf del Sur, or taking advantage of plenty to do with day trips up Mount Teide and fun-filled days at Siam Park Water Park, you're in for an absolute treat.
Antalya, Turkey
All inclusive doesn't get much better than Antalya. The beachfront resorts here in places like Lara Beach are huge and offer so much stuff, you'll never see and do it all in one trip. Multiple restaurants, kids clubs, swimming pools and waterslides, and an endless entertainment programme make this ideal for families on the go.
Further Afield
While Leeds is very much a low cost and holiday airport, you can easily connect in Amsterdam and Dublin to loads of destinations around the world. Enjoy a city break in New York, a beach holiday in Dubai, or even head over to Thailand for a tropical escape you'll never forget.

About Leeds Bradford Airport (LBA)
Getting There
The airport isn't directly connected to a train line, however, if you are travelling by public transport, there is a comprehensive bus network and timetable serving Leeds Bradford. Bus services will take you to both Leeds & Bradford train stations so that you can connect onto mainline services to places like Manchester and York.
If you're travelling by car, the airport postcode is LS19 7TU. Both short-stay and long-stay car parks are available, with official ones being closest to the terminal building. A pick up & drop off car park is available just a one minute walk from the building, while a free parking zone is also available (and is a 4 minute walk from the terminal) where you can wait for up to an hour for free. A premium Meet & Greet service can also be booked in advance, ensuring a speedy experience when arriving and departing.
Airport Hotels
The nearest hotel to Leeds Bradford Airport is a Travelodge just down the road. There are pavements from the hotel to the terminal building (a 10 minute walk), however, you will need to cross Whitehouse Lane. Other airport hotels just a short drive away include the Premier Inn Leeds Bradford Airport and The White Swan in Yeadon.
In The Terminal
Within the terminal building, you'll find all you'll need for your short stay here. Shops include Boots and WHSmith for those much needed essentials, as well as World Duty Free, Accessorize and the obligatory Leeds United Club shop. Cafes, restaurants and bars including Greggs, Burger King, Starbucks, the Cabin Bar and the Beer House will keep you fed and watered before your flight. If you're celebrating or simply want to treat yourself a little, the two airport lounges here (The Yorkshire Lounge and The 1432 Runway Club) provide the space and comfort, while enjoying the complimentary food and beverage on offer.

Holiday Types From Leeds Airport
Last Minute Escapes
It's not always guaranteed but if you're flexible, some of the best holiday deals from Leeds can be at the last minute. If aircraft seats go empty and rooms go unsold, it's a waste for the tour operators and hotel partners, so last minute holidays from Leeds Bradford can sometimes be very inexpensive, especially when you're travelling outside of school holidays.
All Inclusive
TUI and Jet2holidays make all inclusive from Leeds very easy. Book an ABTA protected package holiday with them and you'll likely get your onboard seat selection, check-in luggage and airport transfers included within the price of your holiday as standard. Add on an all inclusive food and drinks package and you really won't have to worry about spending money while you're away. Except for those all important postcards and souvenirs.
Family Friendly Holidays
Being a small airport, Leeds is good for families. No trapsing miles to find your boarding gate. Free WiFi ensuring the latest favourite show is available. Changing facilities to ensure babies and infants are fresh and clean before they board (how long that lasts is subject to change). Choose your hotel wisely to ensure there is plenty to do, kids' clubs and swimming pools, and even waterslides, so that the only complaining you hear is that they've eaten too much ice cream!
City Breaks
With destinations like Krakow, Porto and Paris, city breaks from Leeds Bradford is also easy. Book a package with Jet2CityBreaks for peace of mind, or book your flight and hotel separately to grab a low cost flight and central Airbnb. Just make sure you have comprehensive travel insurance.
More Great Holidays