Holidays From Bournemouth Airport
Latest holiday offers from Bournemouth Airport
Great holidays from Bournemouth Airport
It's great to fly from your local airport which is why there are loads of great holidays from Bournemouth Airport in 2023 & 2024 to destinations across Europe, from Krakow to Kefalonia. Ryanair started increasing its flight schedule from the airport in recent years meaning that there are plenty of cheap flights and fab options to choose from. If you live along the south coast of England, Bournemouth can be a great alternative to driving to much bigger airports like Heathrow or Gatwick.
Popular Holiday Destinations From Bournemouth

Airlines from Bournemouth Airport
There are three airlines flying from Bournemouth, easyJet, TUI Airways and Ryanair, with Ryanair and TUI making up the bulk of the destinations. Sadly, that means that there aren't any long haul destinations direct from the airport, so if you are looking to travel to places like Dubai, Florida or the Caribbean for a holiday, you'll need to venture over to Heathrow or Gatwick airports.
With all three airlines, you can either book the flight on its own, or you can book flight inclusive holidays through an ATOL protected tour operator or travel agent. When booking a flight and hotel package in advance, you can often secure your booking with a low deposit, but you may also be able to find some great last minute deals too, especially if you can be flexible. Take a look at companies like loveholidays, On The Beach and lastminute.com for some of the latest deals. It's also worth looking at packages on the TUI website too.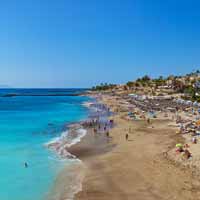 Holiday Destinations from Bournemouth
There's a great range of city break and beach holiday destinations available from Bournemouth, but it's worth bearing in mind that many of the beach destinations are available from around April through to October which is the typical tourist season in places like Greece and Turkey.
Edinburgh, UK
A fab UK city break, Edinburgh is an ideal place for a short break away without leaving the UK. Ryanair flights run a few days a week (not daily) but tie in well with the weekends.
Budapest, Hungary
Flying twice a week (Fridays and Sundays), Budapest is a great city to explore for a few days or even a week. Another Ryanair destination, Budapest is perfect for exploring between May and September.
Geneva, Switzerland
If you're an avid skiier, easyJet flies direct from Bournemouth to Geneva during the winter months, ideal for a fun-filled ski holiday. There are loads of wonderful resorts within a few hours drive like Morzine, Chamonix and Les Houches.
Algarve, Portugal
A classic sun holiday destination, there are multiple flights a week during the summer months to Faro, making family holidays in the Algarve easy and affordable. Book your flight and hotel package through the likes of loveholidays and On The Beach which both have loads of hotel options throughout the region from Albufeira to Vilamoura.
Majorca, Spain
Direct flights to Palma mean holidays to Majorca are also a cheap and easy option too. Majorca is perfect for a city and beach holiday in sunshine, as well as a family friendly place with plenty of hotels and resorts with kids clubs and activities.
Tenerife, Spain
Tenerife is one of three of the Canary islands you can visit from Bournemouth airport and flights here are weekly and year round, meaning you can escape the cold British winter for some winter sunshine by the pool in Costa Adeje.
Rhodes, Greece
The Greek islands are amazing, so it's only right that you can enjoy a holiday to Rhodes (and other islands) from here. Rhodes is a favourite for both groups of friends looking to let their hair down, families looking for a budget friendly break, or a romantic, adults only stay for couples.
Antalya, Turkey
During the summer, Turkey is the ideal fly and flop holiday destination, with huge, beachfront hotels and resorts like the Titantic Deluxe Lara Hotel along Antalya's Lara Beach. These resorts have lots of pools, plenty of activities and dining options, and you may even find a waterpark or two. For ease of booking and travel, check for package holidays which also include luggage and your airport transfers.
Lapland
A couple of days a year in December, a trip to Lapland is also possible. Charter flights are put on so you can enjoy a couple of days visiting Santa and the reindeer in Lapland. You may even get to see the northern lights.

About Bournemouth Airport
Originally built in 1941, the Bournemouth airport actually became a civil airport in 1944 and has since developed to become the preferred holiday airport along Dorset coast. Although the terminal is much smaller than some of its bigger alternatives, there's everything you need here from World Duty Free to a restaurant and bar, and of course, WHSmiths. But being small also has its advantages, smaller security queues, fewer delays and less to walk to get to the aircraft. There's even a FastTrack security channel. Special assistance services are available and should be discussed with your airline to ensure they can also accommodation your needs.
Getting There
Getting to Bournemouth airport is relatively straight forward if you have a car. There are multiple options for car parking with a premium service closer to the airport terminal too. In all cases, it's best to book your airport parking in advance to ensure you save your space. Pick up and drop off is available for £4 for 30 minutes.
The 737 bus is a specific bus which runs between the town centre, and Bournemouth train station and the airport which takes around 40-45 minutes depending on traffic.
Airport Hotels
Although there are no airport hotels within walking distance of Bournemouth airport terminal, there are a couple within driving distance. The two closest hotels are the 3-star Heronshaw Hotel, a country guest house with comfortable rooms about 1km away, and the Avon Causeway, which is a traditional 19th century pub with rooms just under 3km from th airport.
More Great Holidays