Find Your Ideal Holiday With
Check Out These Great All Inclusive Hotels In Ibiza
All Inclusive Holidays In Ibiza Guide

Discover Ibiza
From adults only to the best all inclusive family resorts, there are lots of all inclusive holidays to Ibiza to choose from. With the typical holiday season in Spain running from April through to October, you'll find that school holidays in July and August can get very busy, and the larger family friendly resorts with kids' clubs, multiple swimming pools and children's buffets are often booked up quickly. Despite this, free child places on Ibiza holidays can still sometimes be found during peak periods in the Balearic Islands.
You'll definitely want to get out and experience more of the island, like a daytrip to one of the fantastic golden beaches on offer, or to Ibiza Town to enjoy some of the local food, which is great, but this will obviously cost more, and knowing all food and drinks are covered at your hotel can really help to save money. Extras like water sports and jet skiing, hotel spa treatments and day trips to family attractions like the water parks aren't usually included in packages.
The all inclusive deals provided by travel agents and tour operators can vary with some only including a seat only flight (no bags) and all meals and drinks for breakfast, lunch and dinner (no snacks). Others may include airport transfers, seat selection, 20kg check-in luggage and much more so always check to see what's included and compare prices from one to another once you've added on all the extras.
Alcohol Rules
The government of the Balearic Islands introduced new rules in 2020 which limit the consumption and sale of alcohol in certain resorts in Ibiza and Majorca. The only affected area in Ibiza is San Antonio, and includes all inclusive resorts and the bars and club scene. Holidaymakers can now only drink a maximum of six alcoholic drinks per day at all inclusive resorts in San Antonio, 3 at lunch and 3 at dinner. Daytime drinking by the pool, boat parties and pub crawls in the area have been banned. Soft drinks are not affected by this change. Check with your specific hotel before booking to see if your all inclusive package will be affected by the changes in local laws.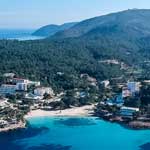 Popular All Inclusive Resorts
There are some great all inclusive hotels in Ibiza, ranging from the Holiday Village Ibiza, Grand Palladium White Island Resort & Spa and the Sol Beach House Ibiza to name just a few of the popular ones. Here are some of the top destinations in Ibiza.
San Antonio Bay
If you like to enjoy a quieter stay in Ibiza, but still want easy access to some of the island's infamous nightlife, San Antonio Bay can be ideal. Enjoying its own selection of bars and restaurants, this part of San Antonio can be a bit more suited to families, or adults who don't want so much hustle and bustle. It's also worth noting that there are alcohol drinking restrictions now in place in San Antonio, which is a bit of a party capital on the island.
Playa d'en Bossa
Playa d'en Bossa's lively beach bar scene is epic, allowing you to make your way from one end of the beach to the other, stopping off at bars along the way and enjoying the atmosphere you would expect of beach bars on the island. Although a popular area for inclusive stays with a party vibe, you might want to get out and explore the area so Bed & Breakfast or Half Board might suit you better here.
Santa Eulalia
Much further up the coastline, past Cala Llonga, you'll reach the marina town of Santa Eulalia. There are some great hotels in the area, but if you want to discover and enjoy some of the marina restaurants or beachfront cafes, you might want to choose your hotel's board basis wisely when booking.
Es Cana
Es Cana (also spelt Es Canar), is a much quieter resort towards the east of the island with a soft sandy beach. Popular places here include the 3-star Hotel Coral Beach by Llum, and the poular TUI SUNEO Caribe.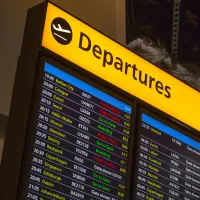 Popular Holiday Companies To Ibiza
There are lots of brands and tour operators you can book with, and it's important to make sure you book with a reputable company. We recommend all customers book flight inclusive holidays which are financially protected by the ATOL scheme, so here is a guide to some of the top ones. A three night break in the sun can be just enough to relax and unwind, but 7 nights or more is for sure much better!
TUI
TUI offers a number of hotels on Ibiza that aren exclusively available when you book through TUI. Plus, when you book a flight inclusive package, most parts of your trip, including luggage and airport transfers are also included. Free child places are often available so a family holiday here with all food included can be a great option to save money.
First Choice
Once known as the "home of the all inclusive", First Choice has moved towards focusing on affordable, cheap holidays for a younger audience with a variety of holiday types on offer. You can still book an ABTA and ATOL protected all inclusive holiday with them.
Jet2holidays
With strong customer reviews and excellent deals, Jet2 is certainly one to look at, especially if you're flying from your local airport like Manchester, Birmingham, Belfast or Bristol airport, and when you make your booking, you'll also be safe in the knowledge your holiday has ATOL protection.
easyJet Holidays
EasyJet Holidays has a good range of hotel and accommodation options offering some of the best deals from numerous airports in the UK including your all inclusive hotel. Keep in mind though that you may need to add on extras like airport transfers, seats and luggage as part of your booking so please see the relevant terms and conditions and travel advice on their website.
Other Popular All Inclusive Destinations
More Great Holidays