Find Your Ideal Holiday With
Popular All Inclusive Hotels In The Algarve
All Inclusive Algarve Holidays
The Algarve is an ideal location for an all inclusive holiday in 2023 and 2024, whether you're taking the family away on your annual summer holiday, enjoying an adults only short break as a couple, or discovering the Algarve for the first time. From its gorgeous golden beaches and dramatic cliffs, to the endless amounts of fun and activities on offer, there really is something for everyone here.

Why All Inclusive In The Algarve
While some may say it's a bit restrictive, encouraging you to stay in the hotel, an all inclusive holiday in the Algarve is actually a great option if you simply want to fly and flop, and enjoy the sunshine. There's always the option of heading out into the local area for dinner, whether that's a taverna in Vilamoura or the many restaurants of Albufeira, and if you just want to enjoy some great food and relax by the pool with a cocktail, it could be the way to go.
You'll often find that many activities are also included in the cost of your holiday, and many larger hotels host themed nights or live entertainment, so you get lots of your money. And talking of money, once you've paid for your holiday, generally you don't have to worry about any extra costs down while in Portugal, unless you're planning an excursion or hoping to eat out once or twice. Food, accommodation and entertainment are included.
Be sure to check if your airport transfers from Faro airport are also included, along with the luggage allowance, as this can very depending who you book through. If booking with a tour operator like Jet2holidays or TUI, this should all be included, including your luggage allowance, while other travel agencies such as On The Beach or loveholidays may not include airport transfers automatically.
Best All Inclusive Algarve Resorts
One of the benefits of booking an all inclusive holiday in the Algarve is that you can fly into Faro airport (the main city), head to the hotel and just flop by the pool, staying within the hotel for the duration. But if you like to venture out, it's important to choose the right resort and there are a number of beach resorts in the Algarve, each with their own unique personalities, to pick.
Some of the best all inclusive resorts are in and around Albufeira, which is a great area if you also like to head out and see more. There are plenty of bars and restaurants in the area to try but there's also some great culture to experience too. Also take a look at other popular areas like Lagos, Carvoeiro, and Vilamoura in Quarteira.
Types Of All Inclusive Holiday
Family Holidays
Not worrying about money, when the kids have got to eat and keeping the family busy on holiday is the absolute dream, and with a short time, it's why for family all inclusive holidays, Algarve is one of the best destinations. Make sure to keep an eye out for free child places too, which can seriously help reduce the cost of your holiday.
Adults Only
For those of you prefer an escape from kids, whether that's your own or other peoples, many of the adults only hotels in the Algarve offer all inclusive breaks. Part of the TUI brand the adults only and all inclusive TUI BLUE Falesia hotel in Olhos D'Agua (midway between Albufeira and Vilamoura) offers some fantastic package holidays.
Things To Do In The Algarve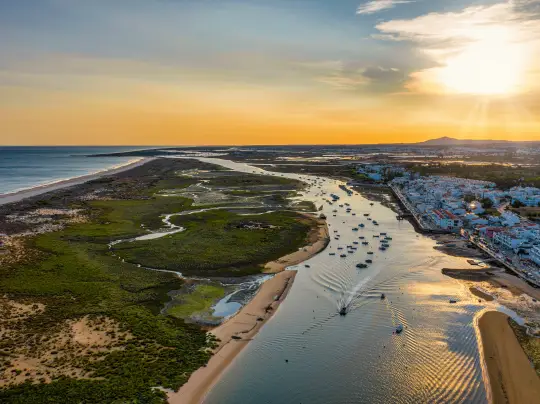 Ria Formosa National Park
If you're staying close to Faro, or have extra time on your hands before the flight, the Ria Formosa National Park is a beautiful place to enjoy a bit of nature spotting or a boat trip to the sandy beaches.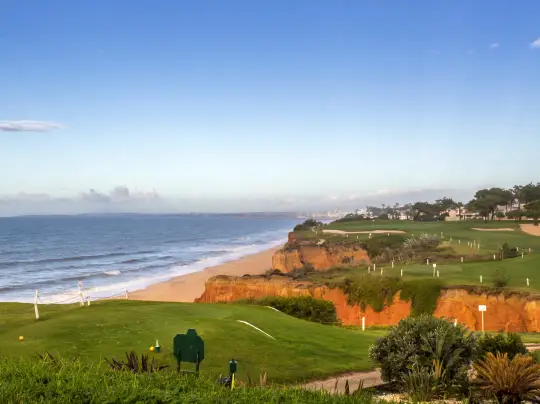 Play Golf
With 31 beautiful courses spread across the Algarve, this part of Portugal is renowned for its golf. So whether you're a pro or you've never played, this is certainly the place to hit a few balls.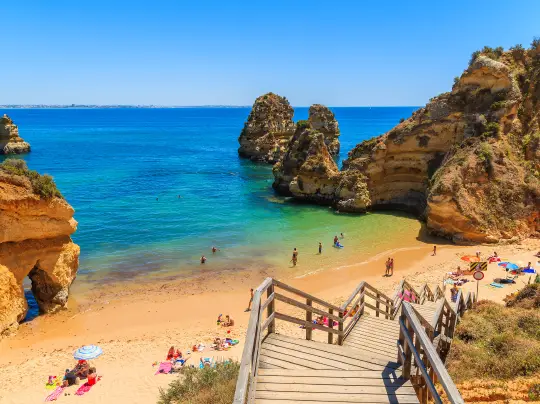 Discover The Beaches
There are more than 100 beaches in the Algarve just waiting to be discovered, ranging from big expansive ones to cute little hidden coves like this one at Praia do Camilo.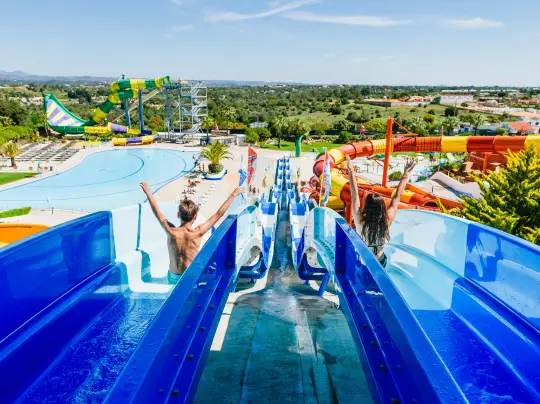 Slide & Splash Water Park
With all inclusive, you might prefer to stay around your hotel pool the whole time, but a fun day trip to Slide & Splash Water Park is an absolute must during the summer season.
What's Included
When booking, it's important to check what is and isn't included with your all inclusive holiday as the inclusions can vary from company to company. Some hotels include all activities and all drinks, while others may only offer a select number of activities included and a limited drinks menu. Generally top tour operators to the Algarve offering all inclusive like Jet2holidays and TUI will include airport transfers and check-in luggage included in the price, while others such as On The Beach or Ice Lolly holidays who may not automatically include these aspects.
Frequently Asked Questions
Areas like Albufeira offer many larger resort style hotels which have all inclusive.
Golf Holidays
While a golf holiday can seem a bit daunting, it's easy to book all inclusive golf packages, with flights, hotels, food, rounds and golf club carriage through respected and ABTA bonded golf tour operators. It takes a little work but you can organise each aspect individually, but you can sometimes get the best tee times and extra offers such as, free rounds, spa access, and more when booking with an agent.
Wedding Packages
If you're planning on getting married in the sun, you can book all inclusive wedding packages in the Algarve at various different hotels. Take a look at hotels like the Anantara in Vilamoura, the Vidamar Resort near Praia dos Salgados and the Pine Cliffs Resort in Albufeira, for some seriously spectacular places to tie the knot.
Book your next all inclusive holiday
In partnership with

Popular Holidays