Last Minute Gran Canaria Holidays
Cheap Last Minute Holidays To Gran Canaria
Ever dreamt of escaping the daily grind at the drop of a hat? If you're looking for sunny last minute holidays, Gran Canaria is certainly worth a look. For a spontaneous adventure, this Canary Island gem is your ticket to sun, sea, and smiles. In this guide, we'll spill the beans on how to whisk yourself away to Gran Canaria in a jiffy. From flights leaving tomorrow to late deals and fantastic last-minute destinations and activities, you'll soon be sipping sangria on the beach. So, grab your sunglasses and pack your flip-flops - let's dive into the world of laste minute getaways to Gran Canaria!
Popular Last Minute Hotels In Gran Canaria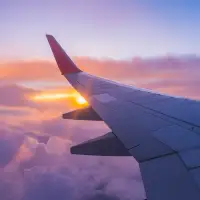 Getting To Gran Canaria
Airlines & Tour Operators
Snagging a last-minute flight to Gran Canaria from the UK is easier than you might think. With multiple airports across the UK, like Newcastle, Manchester and Belfast, offering regular flights to Gran Canaria Airport, spontaneous travellers can find affordable late deals. You might even discover some absolute last-minute bargains, especially if you're flexible with your travel dates, and don't mind where you stay.
Companies to take a look at are TUI's late deals, which show lots of fantastic offers which are departing within the next week, and even some holidays leaving tomorrow. They are also ABTA and ATOL protected which is great for last minute travel protection (although you should always buy comprehensive travel insurance.)
Getting Around Gran Canaria
Reaching your perfect resort on the island is easy. Pre-book an airport transfer so that you know you'll be picked up and whisked off to your hotel in no time. Public buses and taxis are readily available, making it easy to hop from the airport to your chosen haven. If you prefer the freedom to explore at your own pace, car rentals are also an option.
Where To Stay At The Last Minute In Gran Canaria
Gran Canaria spoils you for choice when it comes to last-minute destinations and accommodation. For those seeking lively beaches and vibrant nightlife, Playa del Ingles is a go-to spot. You'll find plenty of last-minute deals on beachfront hotels like the Riu Palace Meloneras and Abora Catarina by Lopesan.
If you crave a quieter escape, Maspalomas offers tranquility without sacrificing convenience. Palm Oasis Maspalomas and Seaside Palm Beach are exquisite last-minute hotel options that cater to your every need.
Adventure seekers can head to Puerto Rico, where you can find fantastic last-minute self catering apartments with ocean views. Resorts like Marina Suites or Gloria Palace Amadores offer superb choices for a spontaneous stay.
To immerse yourself in Canarian culture, consider staying in Las Palmas. It's a vibrant city with plenty of last-minute hotel options, such as AC Hotel Gran Canaria and Hotel Cristina Las Palmas.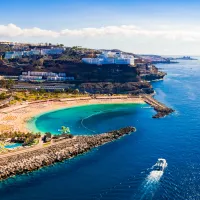 Things To Do In Gran Canaria
Last-minute holidaymakers won't be left twiddling their thumbs in Gran Canaria. The island is a playground of activities. Kickstart your day with a refreshing dip at Playa de Amadores with the soft sandy beach between your toes. Water sports enthusiasts can rent equipment on-site or join group activities like snorkeling and windsurfing.
Nature lovers, you're in for a treat. Gran Canaria boasts diverse landscapes perfect for exploration. Hiking in the mountainous regions, Maspalomas sand dunes or visiting Roque Nublo for stunning views are must-do experiences.
Foodies, prepare your taste buds for Canarian delights. Indulge in fresh seafood, try wrinkled potatoes (papas arrugadas) with mojo sauce, and sip local wines while enjoying oceanfront views.
Gran Canaria's lively fiestas happen year-round. The Carnival of Las Palmas is a colorful spectacle not to be missed, featuring parades, costumes, and lively music.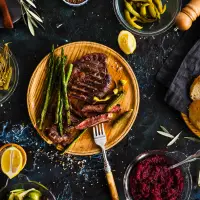 What To Expect On A Last Minute Holiday In Gran Canaria
A last minute holiday to Gran Canaria is all about seizing the moment, and snapping up the best holiday deals. You'll find an array of deals on flights and accommodation to suit your budget and preferences. Flexibility is your ally when booking a spontaneous trip, and you might discover hidden gems you wouldn't have considered otherwise.
Once you're there, expect a warm welcome and a wealth of activities to fill your days. Whether you're lounging on the beach, exploring the island's natural beauty, or diving into its vibrant culture, Gran Canaria is ready to provide a memorable last-minute adventure.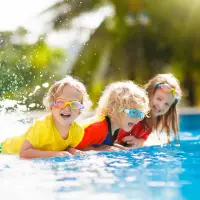 Holiday Types In Gran Canaria
Family Friendly Holidays
Family holidays are certainly cheaper outside of school holidays, but you can also bag a bargain at the last minute. Plenty of hotels on the island have kids' clubs, children's pools and other family-friendly facilities. And even if you're staying at a self catering apartment with no pool, you've always got plenty of fun at the beach or the water park.
Adults Only
Whether it's the cheapest winter sun holiday you can find, or a luxury 5-star resort arriving within the next 48 hours, you've got several options for adults only places to stay. Some hotels may also have a dedicated adults only section which would be worth looking at.
All Inclusive Holidays
You've booked a last minute all inclusive holiday to the sunshine and... you don't have to worry about a thing. Not even spending money. If you're looking for a late escape and are on a budget, going all inclusive can mean all your food and drink, and sometimes your airport transfers and airline seats and luggage is included. All you have to worry about, is enjoying yourself.
More Great Holidays