All Inclusive Holidays Under £500pp
All Inclusive Holidays Under £500pp
Find Your Ideal Holiday With
Latest all-inclusive holiday offers under £500pp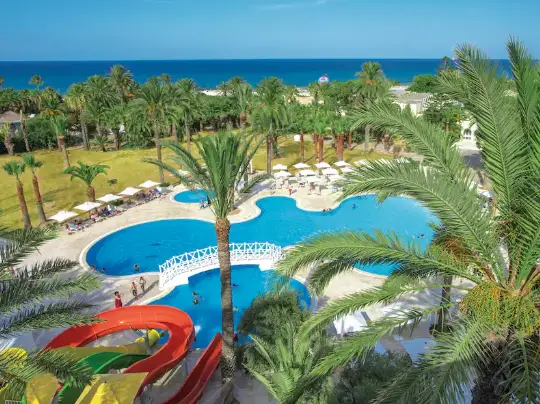 Occidental SousseTunisia
★★★
🛏 - 7 nights - 2 adults ✈ - Departs Gatwick 🗓 - Fri 23rd Feb 2024 🍽 - All Inclusive
From£390per person
View Deal
A guide to all inclusive holidays for less than £500 per person
It's nice to be able to go away on holiday and not worry about a thing, including keeping the family busy, and spending more money on the extra food and drink. So we've pulled together some great all inclusive holiday deals for less than £500 per person.
All inclusive holidays are a great way to make sure you stay under budget when getting away with friends or family. Not having to worry about additional costs such as drinks, snacks or meals, or even activities can mean you can enjoy your holiday much more. So if you have a budget of £500 per person you can be safe in the knowledge that on an all inclusive holiday you can keep the cost under budget.

Be aware of what is and isn't included
Some holiday companies may exclude destination airport transfers or luggage, so make sure you are aware of what is and isn't included in the cost of your holiday. First Choice is a great holiday company to choose for this, as in-destination airport transfers are included in overall price, together with checked-in luggage.

All Inclusive Destinations Under £500
£500 per person is a great budget but you can get more bang for your buck in certain destinations. Destinations in Europe such as Turkey, Greece, Portugal and Spain all have resorts within this budget, although generally speaking, the bigger the budget, the nicer the resort.
You can also find adult only, all-inclusive resorts that offer holidays for less than £500. Dedicated all-inclusive holiday company, First Choice is great for finding these sorts of specific holidays. You can search for your next all inclusive holiday with First Choice here.
If you're struggling to find a resort or destination within your budget, you may want to look at half board options, which can still include lots of activities, plus drinks with breakfast and dinner which are also included.

What to expect on an all inclusive holiday
All inclusive holidays are generally just that, include everything. Some resorts may charge additional fees for things like premium brand alcoholic drinks or motorised watersports. However, local drinks, snacks and all meals should be free. Be sure to check what is included in the cost of your holiday before booking though.