City Breaks From Leeds Bradford Airport
Find Your Ideal Holiday With
Latest City Break Offers From Leeds Bradford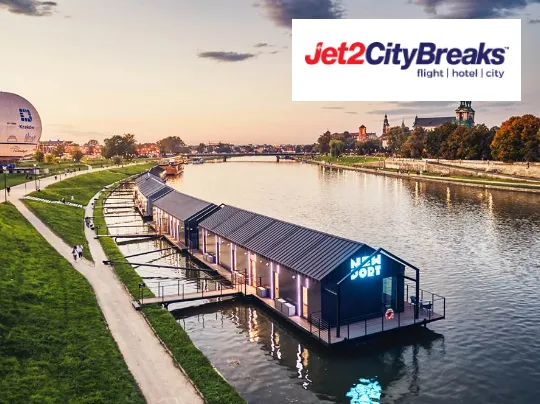 New Port HotelKrakow
★★★★
🛏 - 3 nights - 2 adults ✈ - Departs Leeds 🗓 - Fri 15th Dec 2023 🍽 - Room Only
From£477per person
View Hotel
Great city breaks from Leeds Airport
Jetting off for a short break from Leeds Bradford is perfect when you're local to Yorkshire and you don't want to travel far. Top city break destinations from Leeds in 2023 & 2024 include your classics like Amsterdam, Barcelona and Prague, as well as less conventional like sunny cities such as Dubrovnik and Malta, and Christmas market cities like Salzburg, Krakow and Bratislava.
Popular City Break Destinations From Leeds

Airlines & Tour Operators from Leeds Bradford Airport
The main airlines from Leeds Bradford airport are Jet2 and Ryanair, with other flights offered by companies like Wizzair, TUI and easyJet. This also means that tour operators like TUI holidays, Jet2CityBreaks and easyJet Holidays have their own flights, or you can book through an operator like loveholidays, Expedia or lastminute.com.
Booking a package, you'll likely save money, but if you've got your heart set on some cheap Ryanair flights and a budget friendly Airbnb, make sure you take out comprehensive travel insurance.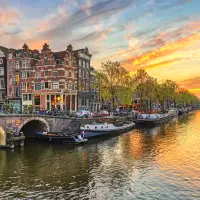 City Break Destinations from Leeds
With over 60 destinations from Leeds Bradford, including Ireland, France, Austria and Switzerland there are both well-known and some hidden gem cities to discover. If you're looking to head long haul like Dubai, New York and beyond, look at surrounding airports like Newcastle and Manchester, or if you're really keen to fly from Yorkshire, a stopover in places like Dublin or Amsterdam might be the best alternative.
Belfast, UK
Hope over to Northern Ireland for a quick city break. Even just for one night can be a nice little escape, enjoying a new city with lots going on, from the fascinating Titanic Museum, to the endless shopping. Fly direct with easyJet and Aer Lingus.
Amsterdam, Netherlands
Amsterdam is a classic weekend break destination, with direct flights from Leeds to Amsterdam with KLM. Take in some of the classic sights and explore the city by riverboat, or take to two weeks for a hosted tour to make sure you don't miss out.
Geneva, Switzerland
Geneva can be both a great summer and winter city break destination. While it's lovely to be enjoying the sunshine on the shores of Lake Geneva in July and August, heading over in winter can be just as fun, enjoying the snow and Christmas markets on offer.
Faro, Algarve, Portugal
You might think of the Algarve as all beaches and sun, but for a sunny city break, Faro can be a great option. It's got a little bit of everything. History, culture, food and beaches close by too.
Prague, Czech Republic
Prague is another one of those must-visit cities, and Jet2 offers flight and hotel packages with ATOL protection. Choose from a selection of hotels and either explore the attractions on your own, or join an organised tour or excursion with an knowledgable expert about the area.

About Leeds Bradford Airport (LBA)
Leeds Bradford has all you need during your visit, from classic shops like Boots and WHSmith, to those perfect browsing stores like World Duty Free, Accessorize and even the Leeds United Club Shop. There are also coffee shops, pubs and other food outlets for that early morning breakfast or pre-flight munchies. Two airport lounges, both open from 4am until 8pm are the perfect way to start your break in style.
Getting There
If travelling by public transport, there is no train station at the airport, however, there are bus services into Leeds, Bradford and Harrogate where you can connect with mainline train services. If driving, multiple car parks are available, ranging from a premium Meet and Greet service to longer stay car parks which are further away.

City Break Types From Leeds Airport
Last Minute Escapes
As you'd expect, be flexible and you've got some great choice of last minute city breaks from Leeds Bradford. Choosing a destination with the most flights means that it might be more competitive and therefore more choice in terms of flights. Dublin, Malaga and Faro often have multiple flights a day and are wonderful places to visit.
Family City Breaks
If you're heading away with the kids, some great family friendly cities include Belfast, Budapest and Rome as there is plenty to see and do, and lots orientated towards children, like interactive museums and historical places can also help with their homework!
City Breaks For Singles
Travelling alone? No problem. Great city breaks from Leeds Bradford for solo travellers are Dublin, as well as sunny destinations like Palma de Mallorca and Alicante.
More Great Holidays