City Breaks From Birmingham
Latest City Break Offers From Birmingham Airport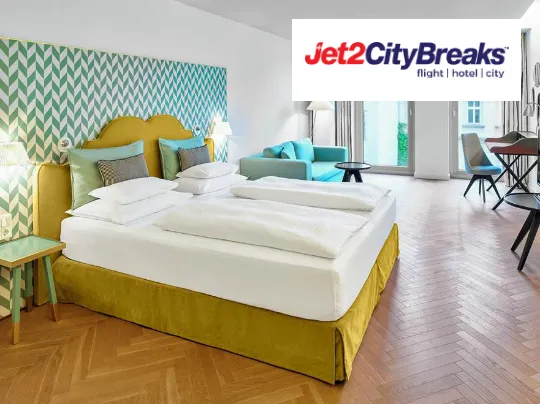 MAXX By SteigenbergerVienna
★★★
🛏 - 3 nights - 2 adults ✈ - Departs Birmingham 🗓 - Tues 26th Dec 2023 🍽 - Room Only
From£419per person
View Hotel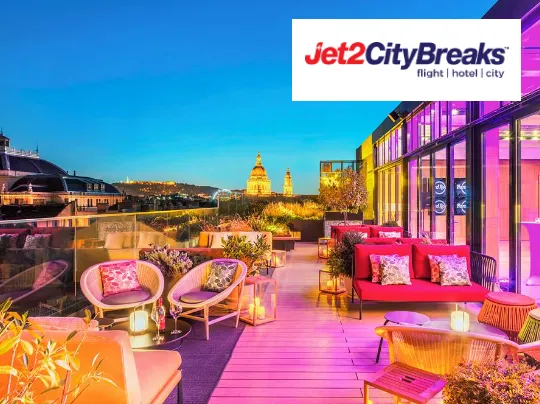 Hard Rock HotelBudapest
★★★★
🛏 - 3 nights - 2 adults ✈ - Departs Birmingham 🗓 - Mon 18th Dec 2023 🍽 - Room Only
From£530per person
View Hotel
Cheap city breaks from Birmingham
There are some fantastic city breaks from Birmingham just waiting to be discovered in 2023 / 2024. From the beaches of Barcelona in April to the bars of Berlin in July, with so many holidays available to a huge range of destinations, they are easy to get to too from Birmingham as it's such a central location. Here's our guide to enjoying an exciting city break from Brum!
Popular Destinations From Birmingham

City Break Destinations From Birmingham
There are actually loads of destinations you can fly to directly from Birmingham, plus plenty more if you include a stopover, with airlines like Ryanair, easyJet, Wizzair and Emirates. Exploring in the summer can sometimes mean lots of tourists and stuffy, uncomfortable weather, so why not try a spring holiday or an autumn getaway? From historic monuments and museums to the gorgeous golden sand beaches of the Greek Islands, here are a few popular ones:
Barcelona, Spain
A classic city break destination, Barcelona offers holidaymakers the chance to enjoy both the city and the beach. Many people visit for how vibrant it is, whether you're enjoying the shopping, culture or nightlife. But if you like to combine with a chilled experience too, there are plenty of parks, beaches and even a number of hotels with relaxing rooftop pools that are just waiting to be enjoyed.
Rome, Italy
Rome is another one of those places you just have to visit. It's such a beautiful city, with ancient architecture and so much history you could get lost in for weeks. You'll also find some fabulous cuisine here with hundreds, if not thousands of restaurants to sample. Try heading away from some of the popular tourist traps to discover some local hidden gems.
Porto, Portugal
Rated one of the up-and-coming destinations in Europe, it's easy to see why more and more people are considering a city break in Porto. Not only is it a fascinating and beautiful place to visit, it's the gateway to the surrounding wine regions and the Douro Valley.
Istanbul, Turkey
Fly direct to Turkey in less than four hours and you'll find yourself immersed in one of the most inspiring and bustling cities in Europe. The summers can get pretty hot here which is why Spring and Autumn are ideal times to visit.
Dubai, United Arab Emirates
With two Middle East holidays from Birmingham Airport on offer (Dubai and Doha), the direct flights from Birmingham to Dubai mean you could be landing in as little as seven hours, and enjoying all that this desert city has to offer. Whether you want to see and be seen at the many pool parties and beach clubs, immerse yourself in the local culture, or simply soak up a few rays of sun by your rooftop pool, a few days in Dubai could be just the ticket.
New York, USA
While you can't fly direct from Birmingham to New York City, you can stopover with airlines like Aer Lingus (via Dublin) and Air France (via Paris). The indirect trip will take around 10 hours, so heading down to London or up to Manchester may be a preferred option for you, but this way does mean you can fly from your local airport.

Tour Operators And Airlines From Birmingham
We always recommend booking a flight and hotel package through a reputable provider with ATOL or ABTA protection, especially in light of recent years' events and it can often help you save money too. An ATOL protected package means your money is safe and secure, should the company run into issues. We understand that isn't always possible, but here are a few of the main tour operators and airlines operating out of Birmingham:
Jet2
While Jet2 is usually known for its holiday destinations, it also offers city break deals too. Top destinations include Barcelona, Athens, Venice and Prague to name just a few. When booking a flight and hotel combination with Jet2CityBreaks, you can benefit from extras like a deposit scheme and a refund guarantee.
easyJet
easyJet flies to a range of UK and European cities from Birmingham International, including Glasgow, Belfast, Geneva and Palma. You could add on your accommodation via their website, or use a tour operator like loveholidays or Expedia to pull together your ideal hotel and travel combination.
Expedia
One great way to find the best options are to check out website like Expedia, TravelSupermarket or lastminute.com. While TravelSupermarket only finds deals from different suppliers, you can book your trips with the other two, and with so many accommodation options available, you'll be spoilt for choice.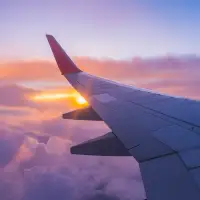 Information About Birmingham Airport (BHX)
Getting There
Getting to Birmingham Airport is actually really easy by public transport. With direct bus and train links from Birmingham city centre, as well as other areas around the West Midlands like Northampton, Coventry and Rugby, plus Birmingham International is on the direct train line to London Euston.
IF you're travelling by car, there are various short stay and long stay car parks outside the terminal and around the airfield, with Premium Set Down and valet parking being the most convenient (and most expensive). There are drop off and pick up areas too if someone is taking you to the airport.
Shops & Restaurants
Being a sizeable international airport, you'd be right in thinking there's a good range of shops and restaurants here, including stores like Boots, JD Sports and World Duty Free. From a quick pint at All Bar One or a coffee at Costa, to a full pre-flight meal at Giraffe or a good old Whopper at Burger King, you won't go hungry!
Other Facilities
Other facilities here include several premium airport lounges like No1 Lounges and Aspire, plus there's a dedicated lounge if you're travelling Business Class and First Class with Emirates to Dubai. For those who need extra assistance, a special assistance service is available. It's worth booking this in advance.

City Break Types From Birmingham Airport
City Breaks With Kids
Travelling with children is never the easiest, so if you want to explore a city, you need to know that it can cater well for kids too. The options from Birmingham are plentiful, with destinations like Amsterdam (jump on bikes!) or Barcelona (play on the beach!) can be a good choice with little ones.
Solo Travellers
It can be tough to find the confidence when travelling alone. There are a number of really good cities which are perfect for solo travellers including places like Bruges, Nice and Berlin. Always check the latest FCDO travel advice before you book and travel, but there are also specialist travel companies who focus on solo and single travellers, like Just You.
Last Minute Escapes
As we always say, flexibility is key when you're looking to go away at the last minute. If the dates and times of travel, and the destination aren't that important to you, you could be exploring a stuning city centre within just 24 hours. Look for destinations with regular flights throughout the day such as Dublin, Amsterdam or Barcelona, and try to travel midweek for fewer crowds. Find out more about last minute city breaks here.
More Great Holidays From Birmingham
More City Break Ideas