Popular Spanish City Breaks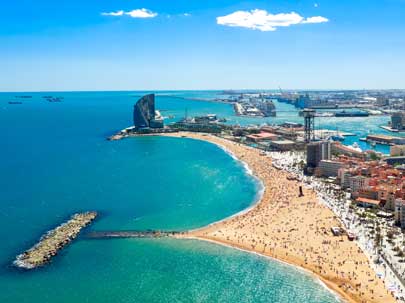 Barcelona
One of the world's most exciting cities, combine beach life with the city, while on a break in Barcelona
EXPLORE BARCELONA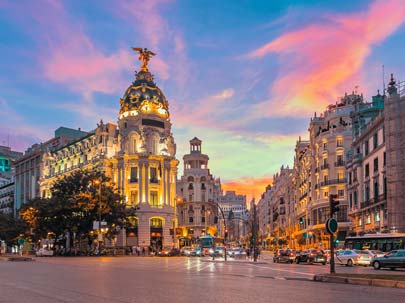 Madrid
A stunning city full of culture, cuisine, shopping and nightlight, Madrid is an ideal break for couples and groups
EXPLORE MADRID
A Spanish City Break Guide
Just a couple of hours flight from the UK, plenty of year round sunshine plus a heap of culture, city breaks in Spain have become a popular choice for Brits. From exploring Madrid and the capital's Plaza Mayor, with the endless museums and sights, to the beaches of Barcelona and Alicante, Spanish cities are always on the list of places to visit. Whether you're 2 adults looking for a mini break, or a family wanting to explore a completely new destination, take a look at our guide below.
Travelling to Spain
Low cost airlines have made flights to Spain incredibly affordable, especially if you're travelling mid-week or outside of school holidays. Flights depart from across the UK, meaning you've got plenty of options no matter where you live. Airlines like Jet2 and easyJet have opened up mini breaks to Spain from regional airports like Belfast, East Midlands, Birmingham and Edinburgh. The popular city of Barcelona has heaps of flights a day from the UK and the likes of Ryanair has helped open up low cost routes to lesser know Spanish destinations.
Booking Protection
For your financial protection, particularly in light of the Covid 19 pandemic, we recommend booking your flight and hotel together as an ATOL protected package with brands like Expedia, Jet2, Travel Republic and lastminute.com.
Top 8 City Breaks In Spain
1. Barcelona
A favourite for many time and time again, Barcelona offers the best of any city break with the perfect mix of incredible Spanish tapas, stunning architecture, shopping, nightlife and the beach. From the Gothic Quarter buildings to the Heures Palace Gardens, you'll love discovering the numerous sights and attractions as you walk around. If you love the outdoors, you can also head out of town to discover the mountains of Monserrat.
2. Madrid
Popular for couples and friends, Madrid provides a wonderful atmosphere for combining a cultural capital with great bars and restaurants. As you wander the streets, you'll be impressed by the historic buildings too.
3. Seville
Famous for oranges and Iberico Ham, Seville is definitely a place in Spain if you consider yourself a bit of a foodie. Did you also know the city's Plaza de Espana was one of the locations that Star Wars: Attack of the Clones was filmed, and is home to the largest cathedral in the country.
4. Malaga
While you might think of Malaga as the gateaway to the Costa Del Sol, you'd be right, but it's a wonderful base from which to explore this magnificent area of Andalucia. You can book a number of tours and activities before you travel to make the most of your time.
5. Zaragoza
One of the lesser known cities in Spain, Zaragoza lies on the banks of the River Ebro, and famous for it's historical past, being founded over 2,000 years ago with Roman, Spanish and Arabic influence.
6. Palma, Majorca
An ideal city beach break, Palma is easily accessible by air, with the old town just 10 minutes from Palma de Mallorca airport and even less to the nearby beaches on the island. Lots of attractions and excursions make this ideal for groups and couples and there's plenty for children to stay busy too.
7. Granada
One of Spain's lesser known destinations, Granada is famous for the The Alhambra, another Spanish city that's rich in history with incredible architecture and certainly one to show off on your Instagram feed.
8. Bilbao
If you love contemporary art, you'll love Bilbao. An ideal break if you've visited some of Spain's other typical destinations, and great for a night or two and potentially combine with a twin centre break to San Sebastian. Northern Spain can be particularly good if you prefer taking the ferry and travelling by car.
Best Spanish Cities
This all depends on what you want from your city break. Spain has a wealth of culture, making it one of the best places to enjoy a European break, so no matter where you go, there will always be a range of museums and attractions to keep you busy. To enjoy the Spanish sunshine, head to the coastal cities for some much needed beach time. Barcelona, Malaga, Palma de Mallorca and Alicante are often considered the best city breaks in Spain for the beach, combining the beach with the Old Town, but here are some more ideas below to help you decide.
Alternatively you could hire a car and head to some of Spain's quieter cities. Northern Spain features places like Bilbao, Santander and Valladolid which offer a less touristy option for visitors.
Best City For The Beach
While the Playa de la Barceloneta in Barcelona might be on your hit list, if you love a beach city break, there are some great other cities to take a look at too. Take a look at Valencia, Alicante and Palma de Mallorca as alternatives. Each offer something unique when looking to spend time by the sea. There are also lots of smaller towns and villages to discover along the coast.
Best City For Nightlife
Madrid is renowned for its nightlife, with bountiful bars and a whole heap of clubs to discover. The Spanish love their late nights, and you'll find that many people won't head out to the bars until much later in the evening. Check out the Literary Quarter for lots of choice while you'll find many of the LGBT bars in Chueca.
Best City For Students
Skip your typical Barcelona and Madrid and head to cheaper favourites like Zaragoza and Murcia which both offer the great nightlife, excellent food and great culture. Head to university towns like Jerez where cheap bars and restaurants are in abundance.
Best City For Families
When you're exploring a city with kids, you need to make sure they're entertained. That's why Malaga is such a great option. With easy access to the beach, and the Museum of the Imagination, for a truly fun few hours, Malaga is just what you'll want if you're visiting as a family.
Best City For Food
Seville is well known as one of the best cities in Spain for foodies. Traditionally from this region, Iberico Ham, that iconic Spanish delicacy is one worth enjoying, but if you're a vegetarian, head to Gaia Centro Ecologico near the city centre. Many cities also now offer tours which involve visiting a local food market to buy local ingredients, before heading to a kitchen and trying your hand a making some of the local delicacies, whether that's tapas or paella.
Best City For Moorish Architecture
Many of the more traditional cities feature impressive structures built in the Moorish style. If you're after discovering more, Seville, Granada and Cordoba each offer a little bit of this part of history, like the Medina Azahara and Great Mosque of Cordoba.
When To Go
Sunny weekend breaks are great in the spring and autumn while the UK is still enjoying the cooler weather and the Spanish weather can be a bit more dependable. April, May, September and October can certainly be good months to visit. In July and August, the summer months can be both busy and hot, sometimes making travelling on public transport less comfortable, however, rooftop bars and pools are even better in the summer months when the evenings are longer and the sun shines more.
The winter months can still enjoy a bit of sunny weather but much cooler. December isn't your typical month to visit Spain but you'll still find plenty to see and do. Perhaps organise a local tour, taking in the grand sights, or take a look at some of the indoor activities like the Museo del Prado, the Scientific Museums of La Coruna or the Jurassic Museum of Asturias.
Frequently Asked Questions
Top Destination Hotels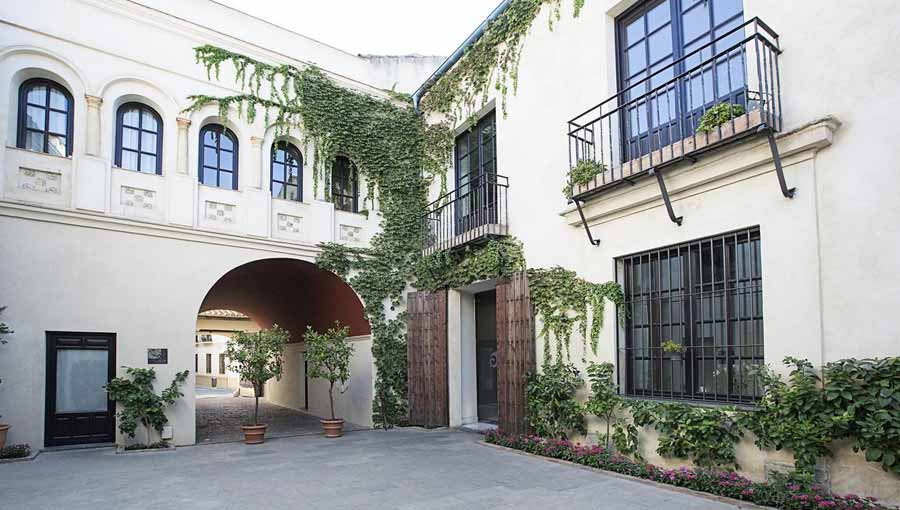 If you take a trip, just to experience a hotel, fear not. Hotels are iconic here. Take a look at the Hotel Hospes Palacio Del Bailio in Cordoba. A beautiful hotel with traditional features, an impressive spa and where your room is like a dream come true. This is one for a special occasion.
The Mandarin Oriental Ritz Madrid is another breathtaking hotel. Located next to the Fuente de Neptuno, close to Retiro Park and between the Centro and Retiro District, this luxury international hotel provides the highest level of customer attention, and a full service spa that's a destination in its own right.
If both of these are out of your price range, but you still want somewhere just as epic, take a look at the Melia Alicante, a wonderful resort overlooking the marina and beaches of Alicante, with a sundeck, infinity pool, and wonderful sea views from its restaurant.
How To Book A Spanish Short Break
Booking your flight and hotel together can often save you money with fantastic package deals on offer. We always recommend booking your flight and hotel together as part of a package which is financially protected by the ABTA or ATOL scheme, however, you may want to check out options of booking them separately, especially if you want to enjoy a twin-centre holiday like Barcelona and Sitges. Check your flights with Skyscanner and they can show you the best options on a variety of dates, so if you can be flexible on when you travel, you could save £££s, just make sure you check the terms and conditions, and if in doubt, book an ATOL protected getaway. So whether you're just 2 adults looking for a cultural escape or a family looking to enjoy 4 nights discovering somewhere new, make sure you book with a reputable brand.
Compare city breaks to Spain
In partnership with
More Popular Short Breaks