Latest Tenerife holiday offers from Belfast
Cheap holidays from Belfast to Tenerife
With direct flights throughout the year, there are some fantastic holidays to Tenerife from Belfast in 2023 and 2024 to be discovered and enjoyed. Tour operators provide a variety of holidays, from romantic escapes for five-star resorts, to group holidays in the sunshine for whatever celebration that might be. And Tenerife is the perfect place for all of that.
Popular Resorts In Tenerife

Tenerife Destinations From Belfast
Tenerife is such a great place for a holiday whatever time of year you go, allowing you to enjoy the sunshine, even in those wintery Northern Irish months.
Costa Adeje
One of Tenerife's most popular holiday resorts, Costa Adeje is the upmarket sister of Las Americas and Los Cristianos. While the hotels want to keep you in, the soft sandy beaches, long promenade walks, upmarket shopping and brilliant bars and restaurants make it such a wonderful place to enjoy when you step out of the lobby.
Playa de las Americas
Playa de las Americas is the place to be if you've escaped Belfast for glorious sunshine and lively nightlife. The accommodation here can be relatively cheap and restaurants offer fantastic meal deals, making this super affordable for a cheap holiday.
Golf del Sur
For a quieter stay, the area of Golf del Sur, just a short distance from Tenerife South Airport provides the location of a more chilled vacation. Private holiday homes and villas and a few hotels make it great for couples and families here, and while there are a few restaurants and bars, it's not quite the same wild nights out you'd find further up the coast.
Puerto de la Cruz
Puerto de la Cruz is on the north coast of the island, far from the bright lights of the Adeje coast, but still offers some great options. Tenerife has a micro climate so the weather in the north can be very different from the south, with more clouds and rainfall throughout the year. It's also a much further drive from Tenerife South airport, but all this means cheap hotels and ultimately cheap holidays. Budget friendly hotel options include the GF Noelia, H10 Tenerife Playa and the Sol Costa Atlantis.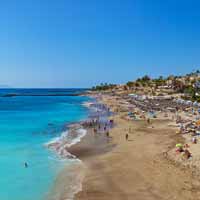 Tour Operators
There are several tour operators offering holidays from Belfast to Tenerife. Here are our favourites:
TUI Holidays
The classic holiday provider, TUI holidays offers packages the island with direct flights from Belfast International Airport. These packages are ABTA and ATOL protected and will usually include things like check-in luggage allowance and airport transfers.
Jet2holidays
Another fantastic tour operator with its own direct flights from Belfast International to Tenerife. These packages are also ATOL protected and can be booked from as little as a £60pp deposit. There are a great range of options on accommodation around the island from Las Americas up to Santa Cruz.
easyJet Holidays
Flying from Belfast to Tenerife, holidays with easyJet go from Belfast International and offer both ABTA and ATOL protection. Choose from a selection of hotels as part of your package and add on extras like car hire, luggage, and airport lounges to make your holiday go with a bang.

Holiday Types
Last Minute Escapes
With several airlines on offer, last minute escapes from Belfast to Tenerife are easy options to grab some late sunshine. You'll need to be flexible, both in terms of when you travel and where you stay. The more flexible you are the better your options. So if you don't mind whether you're in the heart of all the action in Costa Adeje, or further up the coast in a quieter area like Guia de Isora, Tenerife is perfect.
Free Child Places
If you're looking to save money on a family holiday, several of the top tour operators might be able to offer discounts, including things like discount codes and free child places. Check for the latest deals at My Budget Break because there could be plenty of offers out there just waiting to be knabbed. Alternatively, if you know the travel company you want to use, you can go directly to their website and check their Free Child Place finder if they have one.
Adult Only Holidays
Whether you prefer busy pool parties with live DJs, or a more tranquil escape with no kids running around, there are some good options in Tenerife. For party fans, head to the Los Olivos Beach Resort in Costa Adeje, or stay in Playa de las Americas and hit the clubs and boat parties on offer. If it's a more "grown up" feel, head to the TUI BLUE Los Gigantes or the Royal Hideaway Corales Beach. If it's a real middle of nowhere type feel, take a look at the adults only Melia Hacienda del Conde in Buenavista on the north west coast.
All Inclusive
If you're the sort of person who likes to arrive and just chill by the pool, enjoying the food, drink and entertainment that's on offer, there are some really good all inclusive Tenerife hotels dotted about, like the Spring Hotel Bitacora, and the adults only Barcelo Santiago.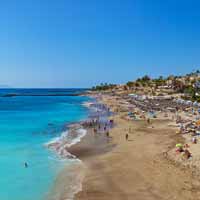 Things To Do
As the largest of the Canary Islands, there is so much to do in Tenerife, with anything from sea kayaking with dolphins to star gazing and much more.
Teide National Park
Mount Teide National Park is actually a UNESCO World Heritage Site and is home to Mount Teide, the highest point in Spain. The journey up goes through pine forests with plenty of hiking trails if you enjoy that, before reaching the lava fields that feel like you're on the moon. A cable car ride will take you part of the way to the top, but one of the most incredible sights here, is booking onto a star gazing experience. Tenerife is actually one of the best places in the world to see the stars.
Siam Park
Rated the best water park in the world on TripAdvisor, Siam Park is a fun-filled day out for everyone, with a lazy river, thrilling rides, children's splash pool, as well as a wave pool. It's best to buy tickets in advance to minimise queues on the door, but you can buy tickets when you get there.
Whale & Dolphin Watching
One of the best things to do in Tenerife is a boat trip to go whale watching and dolphin watching. While it's never guaranteed, sightings are very common and is a special way to spend a day at sea, in the sunshine.
Play Golf
If you play golf, what better way to enjoy a round or two in the glorious sunshine, especially in the winter. There are some fantastic golf courses on Tenerife ranging from hilly Abama Golf, to the flatter Amarilla Golf. Amarilla even has a 9 hole pitch and putt if you don't play but want to give it a try.
More Great Tenerife Hotels
More Popular Holidays