Latest Tenerife holiday offers from Belfast
Cheap holidays from Belfast to Tenerife
With direct flights throughout the year, there are some fantastic holidays to Tenerife from Belfast in 2023 and 2024 to be discovered and enjoyed. Tour operators provide a variety of holidays, from romantic escapes for five-star resorts, to group holidays in the sunshine for whatever celebration that might be. And Tenerife is the perfect place for all of that.

Tenerife Destinations From Belfast
Tenerife is such a great place for a holiday whatever time of year you go, allowing you to enjoy the sunshine, even in those wintery Northern Irish months.
Costa Adeje
One of Tenerife's most popular holiday resorts, Costa Adeje is the upmarket sister of Las Americas and Los Cristianos. While the hotels want to keep you in, the soft sandy beaches, long promenade walks, upmarket shopping and brilliant bars and restaurants make it such a wonderful place to enjoy when you step out of the lobby.
Playa de las Americas
Playa de las Americas is the place to be if you've escaped Belfast for glorious sunshine and lively nightlife. The accommodation here can be relatively cheap and restaurants offer fantastic meal deals, making this super affordable for a cheap holiday.
Golf del Sur
For a quieter stay, the area of Golf del Sur, just a short distance from Tenerife South Airport provides the location of a more chilled vacation. Private holiday homes and villas and a few hotels make it great for couples and families here, and while there are a few restaurants and bars, it's not quite the same wild nights out you'd find further up the coast.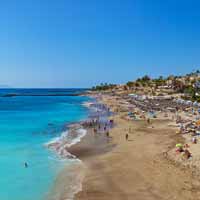 Tour Operators
There are several tour operators offering holidays from Belfast to Tenerife. Here are our favourites:
TUI Holidays
The classic holiday provider, TUI holidays offers packages the island with direct flights from Belfast International Airport. These packages are ABTA and ATOL protected and will usually include things like check-in luggage allowance and airport transfers.
Jet2holidays
Another fantastic tour operator with its own direct flights from Belfast International to Tenerife. These packages are also ATOL protected and can be booked from as little as a £60pp deposit. There are a great range of options on accommodation around the island from Las Americas up to Santa Cruz.
easyJet Holidays
Fly from Belfast International to Tenerife South to escape the British weather with easyJet Holidays. Choose from a selection of hotels as part of your package and add on extras like car hire, luggage, and airport lounges to make your holiday go with a bang.

Holiday Types
Last Minute Escapes
With several airlines on offer, last minute escapes from Belfast to Tenerife are easy options to grab some late sunshine. You'll need to be flexible, both in terms of when you travel and where you stay. The more flexible you are the better your options. So if you don't mind whether you're in the heart of all the action in Costa Adeje, or further up the coast in a quieter area like Guia de Isora, Tenerife is perfect.
Free Child Places
If you're a family looking to save money, several of the top tour operators might be able to offer discounts, including things like free child places. Check for the latest deals at My Budget Break because there could be plenty of offers out there just waiting to be knabbed.
Popular Resorts In Tenerife
More Popular Holidays