Holidays From Norwich Airport
Great holidays from Norwich Airport
Once an RAF base (RAF Horsham St Faith), Norwich became a civil airport in 1971, but is now home to a range of great flight options allowing you to jet off to the sunshine. Being a small airport, holidays from Norfolk airport aren't always year round, in fact, currently there are just two direct destinations outside of the UK from Norwich, Amsterdam, a classic city break, and Tenerife, which offers excellent year round weather. But with Amsterdam being such an aviation hub, you can fly onwards to over 250 destinations around the world from your local airport. Here's our guide to where you can fly and which holiday destinations you can enjoy from Norwich.
Popular Holiday Destinations From Norwich Airport

Airlines from Norwich Airport
There are four airlines departing from Norwich airport to destinations in the UK and abroad. Those are TUI, KLM, Loganair and Blue Islands. In the winter, Transun has charter flights flying direct to Lapland but this is just a couple of times over the Christmas period. TUI focuses on more of the beach holiday destinations in Europe.
If you've got bigger destination hopes and dreams, you may be better flying from your next nearest international airport which is likely to be London Stansted. There are thousands more flights from Stansted every year to many more destinations including Malta, the Costa del Sol, the Algarve and even Dubai.
If you choose to book your own holiday, with flights and hotel separate, bear in mind that your package holiday won't be ATOL protected and actually, if you book with the likes of TUI Holidays, you may find it far cheaper than booking the different elements separately.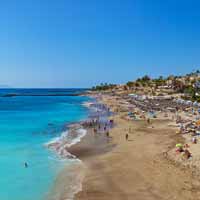 Holiday Destinations from Norwich
Whether city breaks or beach holidays, you can do both from Norwich airport although you are a bit limited on flights.
You can either book your trip through one of the many tour operators and travel agents in the UK, including On The Beach, Hays Travel and Expedia, or if you're booking a beach holiday, you can book direct on the TUI website where you may also find a range of late deals, discounts and free child places. Bookings with TUI are also ABTA and ATOL protected.
Aberdeen, UK
One of the most underrated UK cities, Aberdeen is an excellent short break destination and you don't even need your passport (but you will need ID). Often used for business travellers, especially those who work with companies involved with the North Sea activities.
Jersey, UK
Jersey is a fab holiday destination but you can only fly there from Norwich between May and September with Blue Islands.
Amsterdam
The ideal city break destination, Amsterdam offers a cultural escape just a short flight away. Flying year round and daily, KLM can help you then connect onto hundreds of other destinations around the world including New York, Los Angeles, Delhi, Tokyo, Bangkok and Bali.
Paphos, Cyprus
TUI flies direct to Paphos just once a week between May and September, offering package holidays for 7 nights in the sunshine.
Rhodes, Greece
A wonderful destination for beach and sunshine, Rhodes is another of TUI's destinations between early May and late October, once a week.
Crete, Greece
Whether you like the nightclubs, the beaches or the a mix of both, TUI can package up your holiday to Crete with flights, transfers and more.
Majorca, Spain
Great for both self catering and all inclusive holidays, Majorca is a gem and perfect for all holiday groups, whether families, couples or friends. It's also brilliant for a quick city break in the sunshine, with Palma offering lots of history, great food, and nearby beaches, even if just for a couple of days.
Tenerife, Spain
The only destination in the Canary Islands that you can fly to from Norwich, Tenerife is also the only sun holiday destination you can fly to throughout the year. So whether you're looking for a winter escape in December, a spring break in March or a summer holiday in July, Tenerife is a go to.
Dalaman, Turkey
A brilliant all inclusive destination, if you simply like to fly and flop, Dalaman has big resorts, just waiting to be enjoyed. Take a look at popular areas like Marmaris, Icmeler and the incredible scenery of Olu Deniz.

About Norwich Airport
Getting There
Located about 5 miles north of Norwich city centre in East Anglia, the best way to access Norwich airport is by car with both short and long stay car parks available when flying from here. There isn't a train station here so if you're travelling in from the city centre, you can either take a 20 minute taxi, or there is an airport park & ride service which operates Mondays to Saturdays (it doesn't operate on Sundays).
The closest train station is Norwich train station, with both Abelio Greater Anglia and East Midlands trains, serving the station offering links to London, Peterborough and all the way up to Sheffield.
Car Parking
There are a couple of different parking options depending on your budget and requirements. If you are picking up or dropping of passengers, you can do so for a maximium of 30 minutes and at a cost of £5. There are also both short stay and long stay car parks, as well as a premium short stay car park option which is just a two minute walk from the airport terminal. It's definitely worth booking your airport parking in advance for the best rates.
Inside The Terminal
Being a small airport, the facilities here are a little limited with just a WHSmith and World Duty Free to satisfy your need to shop. There's also a restaurant and bar for any preflight food and drink cravings. The Executive Lounge is a small and limited space serving snacks and drinks within a more relaxed environment before your flight. This should be booked online and in advance.
Airport Hotels
There are two main airport hotels here, the Holiday Inn and the Premier Inn Norwich Airport hotel. Both have overnight parking available for guests and are about a 10 minute walk from the terminal building.
More Popular Holidays