City Breaks From Manchester Airport
Find Your Ideal Holiday With
Latest City Break Offers from Manchester Airport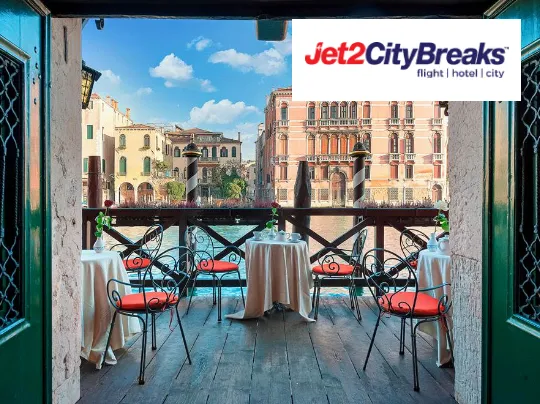 Residenza D'Epoca Ca' FavrettoVenice
★★★★
🛏 - 3 nights - 2 adults ✈ - Departs Manchester 🗓 - Thu 4 Apr 2024 🍽 - Bed & Breakfast
From£645per person
View Hotel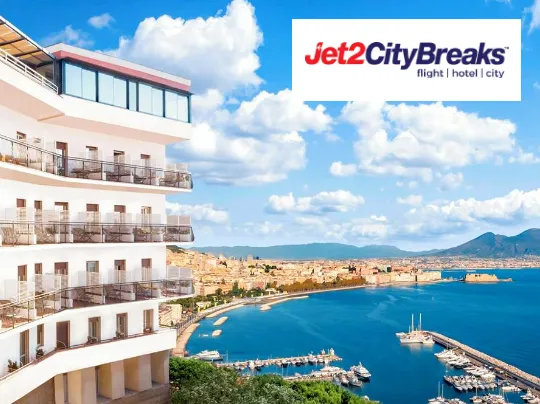 Best Western Hotel ParadisoNaples
★★★★
🛏 - 3 nights - 2 adults ✈ - Departs Manchester 🗓 - Sun 21st Apr 2024 🍽 - Room Only
From£542per person
View Hotel
Great City Breaks From Manchester Airport
Attention, adventurous Mancunians! Ready to escape the daily grind and embark one of loads of exciting city breaks from Manchester airport in 2023 & 2024? Step out of the rain and into a world of possibilities as you hop on a flight to countless incredible destinations. Picture sipping a cappuccino in a charming café in Paris, exploring the bustling streets of New York, or combining city culture, beautiful beaches and sublime sunshine in Barcelona or Dubai. The world is your oyster! Adventure, culture, and excitement are just a stone's throw away. Bon voyage, fellow explorers!
Popular City Break Destinations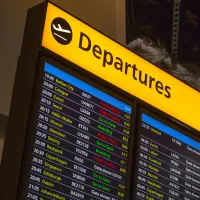 Airlines & Tour Operators from Manchester Airport
There are loads of airlines flying out of Manchester airport on a daily basis, heading to fab destinations in the UK, Europe and beyond. From Newquay and Jersey in the UK, and holiday destinations like the Canary Islands, Malta, and the Red Sea in Egypt, to far flung ports of call like Singapore, Florida and Mexico, the world really is your oyster. You'll find low cost airlines like Ryanair, Air Transat and easyJet, mixed in with national carriers like Virgin Atlantic, Qatar Airways and British Airways.
Pretty much all tour operators and travel agents which sell city breaks have options from Manchester. Popular brands like Jet2holidays and TUI sell ABTA and ATOL protected packages, while Virgin Atlantic Holidays, BA Holidays and Travel Republic sell long haul city break destinations like Boston, Las Vegas and Hong Kong.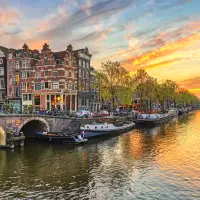 City Break Destinations from Manchester
From the classics like Paris, Madrid and Rome, to more far flung destinations like Abu Dhabi, New York and Singapore.
Dublin, Ireland
Just fancy cheap and cheerful? Even if it's just for 1 night, Dublin is a great place to explore and lots of fun too. Be sure to join the tourists in Temple Bar to enjoy some local Irish music while sipping on a nice, cold Guinness.
Berlin, Germany
History, culture, great restaurants and a lively bar and nightlife scene, Berlin is a fantastic all round city break. There literally is something for everyone here, whether you're visiting alone, as a couple, with kids or with friends. Be sure to check out the "beach bars" along the Spree River in July and August.
Istanbul, Turkey
Try something a little different and immerse yourself in the Turkish culture. Head to the Hagia Sophia mosque to stare in awe at the impressive, historic building, while the Salgam Suyu (pickled turnip juice) is a popular drink to try with a meat dish.
New York, USA
Ah, the Big Apple. We love this city. It really is an experience for the senses. From the delicious smells of street cart food, to the hustle and bustle of Manhattan's streets. If it all gets a little too much, head to Central Park for a little peace and quiet, or head up on The High Line to see the city from a different perspective.
Las Vegas, USA
Vegas certainly isn't for everyone, but a few days in this city and you'll truly feel alive. Whether you just want to chill by the pool for a few days, enjoy a show or two, or head out to the Grand Canyon by helicopter. This is a trip you will definitely never forget.
About Manchester International Airport (MAN)
First of all, with 50 airlines all flying from different terminals, make sure you know which terminal you're flying from. This will determine where to park, where to stay and what facilities are available before you fly.
Getting There
By Public Transport
The airport is easy to get to by public transport from Manchester city centre. Both direct bus and train services run from the Piccadilly area of the city, with trains running for most of the night, and a 24 hour service by bus. The Metrolink tram also runs from Manchester airport through Wythenshawe, Chorlton and Castlefield before ending up at Manchester Victoria station.
By Car
If you're travelling by car, you can save money by pre-booking your airport parking, with lots of different options available to suit budgets. JetParks are the cheapest which must be pre-booked. They are a little further away from the terminal and you'll need to park up before jumping on a 5-10 minute shuttle bus to the terminals. Other options include mid-stay and short-stay car parks, as well as the premium meet and greet service. Car park options are available at all three terminals.
Airport Hotels
Radisson Blu Hotel
By far the most iconic hotel at the airport, the Radisson Blu Hotel sits next to the train station, along the walkway between terminal 1 and terminal 2. This chic, modern hotel offers a range of room types including runway views, one bedroom suites and family rooms. The family room can sleep up to 4 adults. Free Wi-Fi, gym, luggage storage and even a spa with indoor pool are available here.
Crowne Plaza
The most convenient hotel for terminal 3 is the Crowne Plaza. This 4-star hotel is a short walk from the terminal and offers two restaurants (a grill restaurant and an Asian restaurant), as well as a bar, fitness centre, business centre and a Club Lounge for those guests in Club rooms. There's free WiFi and overnight parking is available here but at an additional cost.
Clayton Hotel
The Clayton Hotel is another convenient option close to terminal 3 and Manchester airport train station. You can pre-book overnight stays and parking as a package, so that's two things ticked off your to-do list!
ibis budget Hotel
The closest hotel to Manchester terminal 2 is the cheap ibis budget hotel. This clean, comfortable, yet budget friendly hotel offers a no-frills experience within steps of the terminal and offering overnight stays for under £100 per room. Wi-Fi is still free but extras like parking and breakfast are at an additional fee.
In The Terminals
Shops & Restaurants
Depending on which terminal you fly from will determine what's available to you in the terminal, but whichever one you fly from, you can be sure you'll find a good range of shops, restaurants and bars, as well as an airport lounge or two. Classics like Boots, WHSmith and World Duty Free are mixed in with Hamley's, Bobbi Brown and Jo Malone in terminal 1. Meanwhile in terminal 2, you can find JD Sports and Boots mixed in with Starbucks and Wagamama. Terminal 3 is home to smaller selection of outlets including KFC, Caffe Nero, WHSmith and the Pork & Pickle Pub.
FastTrack security and passport control are available at all terminals, along with at least one premium lounge that you can pay for (always book in advance for the cheapest rates), and if you're flying Emirates, they have a dedicated business and first class lounge in T1.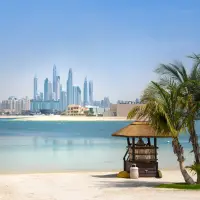 City Break Types From Manchester Airport
Last Minute Breaks
With hundreds of incredible destinations, if you're flexible, a last minute break could be a great option. Snap up a late deal while airlines are keen to fill seats and hotels keen to fill rooms. The most popular cities from Manchester are Amsterdam, Dublin and Dubai, so start with those and see what's on offer.
Beach & City Breaks
If you love a bit of sunshine, combining the beach with a city break is the ideal option for you. Hit up top places like Barcelona, Palma, Faro in the Algarve and even Abu Dhabi. Short breaks in the sun don't have to cost a fortune, and you can find some pretty good accommodation options everywhere, ranging from holiday apartments in Nice on Airbnb to all inclusive resorts in Alicante.
Family City Breaks
Spending time away with kids, even if just for a few days, not only improves the family dynamic but they can also be really educational too. One of the kids studying the Romans at school? Why not head to the ancient city of Rome and explore the sights and attractions on offer. Or perhaps Athens is calling if they're studing the ancient Greeks?
Manchester Airport Hotels
More Great City Breaks