Cheap Protaras Holidays
Protaras Holidays Guide
Located in the east of Cyprus, Protaras is a small, but lively resort on the island offering a great break for everyone and is one of the country's popular destinations. Whether you prefer a self catering holiday in a family friendly villa with private pool, or an adults only, all inclusive hotel with plenty of facilities near the beach, Protaras holidays are a great option for a getaway in 2023 & 2024. There is a popular stretch of beach in Protaras where the sea is an idyllic shade of turquoise. It's an ideal holiday resort if you like the odd good night out in Ayia Napa but don't want to be staying in the thick of it all and like to escape back to your hotel.
Popular hotels in Protaras
Getting to, from and around Protaras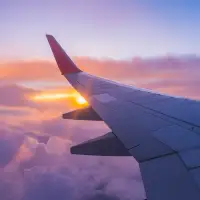 The nearest airport to Protaras is Larnaca airport and is about a 50 minute direct drive. Direct flights from the UK to Larnaca include flights with Jet2, Ryanair, easyJet and Wizzair from airports like Manchester, Liverpool and Belfast, although make note that many flights only run during the summer season between April and October. It's worth booking flight inclusive holidays to Protaras where possible as this can save money and often provides some financial protection through the ABTA or ATOL scheme.
Taxi, Car Hire & Driving
If travelling by taxi from the airport to Protaras, this can cost between €50 each way. The journey takes around 50-60 minutes without any stops. If you're planing to explore this part of Cyprus, then hiring a car can be a great option. It's best to organise this in advance to get the best deals and avoid disappointment, although you can hire a car at various locations in Protaras too.
Airport Coach Transfers
If you're booking a package holiday with someone like TUI or Jet2holidays, you're airport coach transfers are likely to be included. If not, this is a very easy and affordable way to get to your hotel. Travel time can vary depending on the other hotels you stop at along the way but can be around 90 minutes.
Getting Around Protaras
Once you're in Protaras, walking around is relatively easy to do, with a lot of hotels close to the Protaras strip and most accommodation within walking distance to Protaras beach. If you're planning a trip into nearby Ayia Napa, the journey will take around 20 minutes by car. You can also do the journey by bus which takes around 40 minutes and costs a couple of Euros.
Things to do in Protaras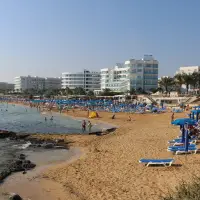 The Beaches
The soft sandy beaches here are a real draw for both locals and tourists. Protaras beach should definitely not be missed and is the largest here. In fact there are a couple of good beaches along this stretch of the Cypriot coastline with Fig Tree Bay being one of the most popular and a Blue Flag beach. Chill out on the sand, hire a sun lounger and umbrella or try your hand at a range of water sports activities like wakeboarding and parasailing, as well as hiring jetskis and speedboats.
To the south, you'll find the quieter Nisia Loumbardi Beach which is another one of Cyprus' many blue flag beaches. And then you have the small Green Bay beach a little further along the coast from there. Other notable beaches worth visiting in the area are Kalamies Beach next to Paralimni Marina, and Konnos Beach near the Cyclops Cave.
Protaras Ocean Aquarium
In terms of things to do in Protaras for families the beach is a welcome escape from those tough days by the pool, but for something a little different (and good on the odd occasion when it rains), the Protaras Ocean Aquarium will keep the kids (and adults occupied for a few hours.
Water Park
Heading out of Protaras can also be a fun day out, whether that's exploring more of the island, or heading to WaterWorld water park just outside of Ayia Napa. This Greek themed waterpark is filled with plenty of rides and attractions, including the Danaides Waterworks, a perfect little splash park for the youngsters.
Boat Trips
Why not escape the confines of the hotel and do something a little different? There are a number of different day cruises and boat trips you can join, ranging from adults only party boats to the wonderful family cruise from Yellow Boat Cruises which departs from Protaras Pier.
Sports
With sunshine for much of the year, many people come to Cyprus for its warm weather and sports facilities. With anything ranging from yoga retreats to triathlon training, if you're interested in enjoying your favourite sport in the sunshine, then it's worth considering a trip. Scuba diving is particularly great here with fantastic sea life like turtles and barracudas, as well as shipwrecks! If you loving walking, there are some great hiking trails around here too.
When to go to Protaras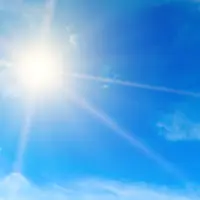 Weather
Summer is a popular time to travel to Protaras with temperatures reaching into the early 30s, the sun shines on average 11-12 hours a day and it rarely rains. With this being peak school holiday season in July and August, prices can skyrocket, so it's not surprising that the spring and autumn is also popular with bargain hunters looking for a cheap holiday. The weather isn't as warm but you'll still get some great days. While the UK is starting to warm up in April or cool down in October, the weather in Protaras is a balmy 17 degrees with just a few days of rain.
During the winter months between November and February and March, many hotels close and the temperature does drop (although it's still warmer than the UK and there's an average of 4-5 hours a day of sunshine), so bear in mind that many bars, restaurants and attractions may be closed when you visit.
"The Season"
The "season" typically runs from April to October, although don't expect it to start getting busy until May or June, and it will start getting quieter in September. During the summer, hotels, bars, restaurants and activities are thriving. But in winter, many places will close and it becomes a bit of a ghost town. Bear this in mind when you see those super cheap holidays that depart out of season.
Where to stay in Protaras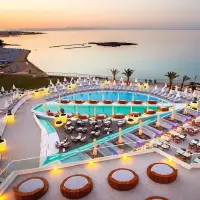 Protaras Avenue ("The Strip")
The main "strip" is Protaras Avenue which is home to many of the town's bars and restaurants. You'll find that some of the beachfront hotels here, like Vrissiana Beach Hotel and Capo Bay, back onto the main street. You've also got other hotels like Melini Hotel Suites and the Vangelis Hotel & Suites here too. During the summer, if you like lots going on and plenty of places to go, you might enjoy staying here. Restaurants here include pan-Asian, Indian, and British as well as the local Cypriot cuisine with fresh fish dishes too.
Surrounding Areas
If you like to be close, but not too close, then the outskirts might be a better option. Take a look at places like the Sunrise Jade hotel or the Cavo Maris Beach hotel to the south, or Papantonia Hotel Apartments and Pernera Beach hotel further up the coast in Pernera.
Other notable hotels include the Narcissos Waterpark Resort near Green Bay Beach and the 4-star adults only hotel, The King Jason Protaras. If it's got to be a 5 star hotel, then take a look at the Sunrise Jade hotel with it's gorgeous spa facilities and outdoor heated pool.
Villas
Many holiday villas in Protaras are set back, away from the sea but are a short walk from the Protaras Strip. This can be a great option if you like your own space and a private pool (sometimes a heated pool), but as you're self catering, want to be within easy reach of restaurants and cafes.
Frequently Asked Questions
Like most popular tourist destinations, Protaras is generally considered a safe destination, but do pay attention even when on holiday, as pickpockets do target holidaymakers.
Protaras isn't overly expensive, but you make it what it is. A beer costs between €2.50-€3 and meals at a restaurant can cost from €10 upwards. You can easily spend plenty of money, but you can also save by not hiring sun beds on the beach, and buying food from the local Lidl and going self catering.
Protaras is a great holiday destination for both couples and families, as well as groups. With a good range of bars and restaurants, plenty of affordable accommodation, great beaches and plenty of sun, it's easy to see why so many people choose it as their favourite place to stay.
Protaras Reviews In 2023
Protaras is a popular destination in Cyprus, offering the best of both worlds. Great beaches, hotels and a relaxed vibe, while having a good range of shops and nightlife too. Ayia Napa is a 15-20 minute taxi ride so if you wanted to explore or enjoy a bigger night out, it's not too far away.
All Inclusive Protaras
While self catering is a great way to book a cheap holiday, an all inclusive holiday in Protaras is a great way to not worry about your spending when you're in resort. Hotels like the TUI BLUE Atlantica Sea Breeze (adults only), the smaller Mandali hotel and the beachfront Vrissaki Beach Hotel all offer an all inclusive option, ensuring all meals and most drinks (including local alcoholic beverages) are included. Of course, it's still nice to get out and try some of the local places too.
Book your next getaway with TUI
In partnership with

More Great Holidays