Cheap Protaras Holidays
Protaras Holidays Guide
Located in the east of Cyprus, Protaras is a small, but lively resort on the island offering a holiday for everyone, whether you prefer a self catering holiday in a family friendly villa with private pool, or an adults only, all inclusive hotel with plenty of facilities. There is a popular stretch of beach in Protaras where the sea is an idyllic shade of turquoise. It's an ideal holiday resort if you like a good night out in Ayia Napa but don't want to be staying in the thick of it all.
Getting to, from and around Protaras
The nearest airport to Protaras is Larnaca and is about a 50 minute direct drive. If travelling by taxi from the airport to Protaras, this can cost between €40-50 each way. If you're booking a package holiday with someone like TUI or Jet2holidays, you're airport coach transfers is likely to be included. If not, this is a very easy and affordable way to get to your hotel.
Once you're in Protaras, walking around is relatively easy to do, with a lot of hotels close to the Protaras strip and most accommodation within walking distance to Protaras beach. If you're planning a trip into nearby Ayia Napa, the journey will take around 20 minutes by car. You can also do the journey by bus which takes around 40 minutes and costs a couple of Euros.
Things to do in Protaras
Protaras beach should definitely not be missed. In fact there are a couple of good beaches along this stretch of the Cypriot coastline with Fig Tree Bay being one of them and offering a range of water sports activities like wakeboarding and parasailing, as well as hiring jetskis and speedboats.
In terms of things to do in Protaras for families the beach is a welcome escape from those tough days by the pool, but for something a little different (and good on the odd occasion when it rains), the Protaras Ocean Aquarium will keep the kids (and adults occupied for a few hours.
Heading out of Protaras can also be a fun day out, whether that's exploring more of the island, or heading to WaterWorld water park just outside of Ayia Napa. This Greek themed waterpark is filled with plenty of rides and attractions, including the Danaides Waterworks, a perfect little splash park for the youngsters.
When to go to Protaras
Summer is a popular time to travel with temperatures reaching into the early 30s and rarely any rain. With this being peak school holiday season, prices can get high, so it's not surprising that the spring and autumn are also popular and just as good weather-wise. While the UK is starting to warm up in April or cool down in November, the weather in Protaras is a balmy 17 degrees with just a few days of rain.
Where to stay in Protaras
Try popular hotels like the Vrissaki Beach Hotel, Hotel Sunrise Beach or Cavo Maris Beach Hotel to be close to the beach, while you'll find holiday villas in Protaras are more inland and are a great option to have the freedom of your own space. If it's an adults only hotel in Protaras that you're after, try the King Jason Protaras Hotel located in the Fig Tree Bay area or the TUI BLUE Atlantica Sea Breeze.
Popular hotels in Protaras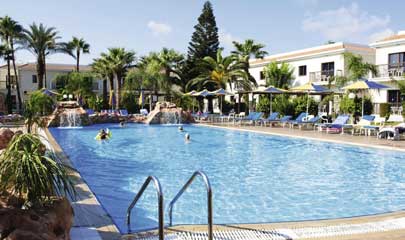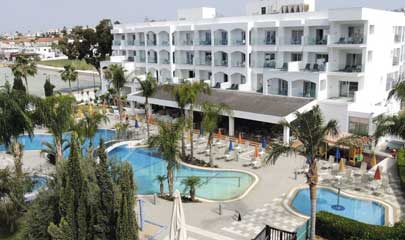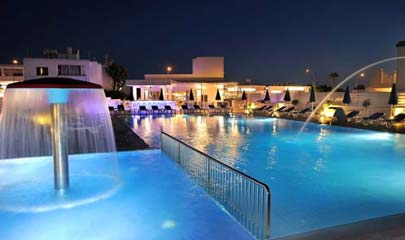 Similar Destinations