Find Your Ideal Holiday With
Cheap Puerto de La Cruz Holidays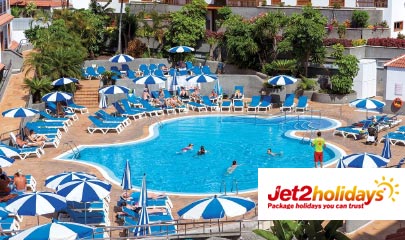 Casablanca ApartmentsPuerto de la Cruz
★★★
🛏 - 7 nights - 2 adults ✈ - Departs Stansted 🗓 - Thu 10th November 2022 🍽 - Self Catering
From£551per person
View Deal
Puerto de La Cruz Holidays Guide
Holidays in Puerto de la Cruz are often considered more popular with European holidaymakers due to the distance between the area and Tenerife North airport which offers flights to mainland Europe. There are plenty of hotels, bars and restaurants to enjoy in this more tropical part of Tenerife.
Getting to, from and around Puerto de La Cruz
The nearest airport to Puerto de la Cruz is Tenerife's North airport which is served mainly by European cities. Most, if not all direct flights from the UK to Tenerife land at Tenerife South airport which is on the south of the island. It'll take about 25 minutes to get from Tenerife Norte airport to Puerto de la Cruz, whereas the journey from Tenerife South airport will take just over an hour, or even longer if travelling with a hotel shuttle.
Once there, Puerto de La Cruz is well connected by public buses and it's easy to walk around. As with most resorts, Puerto de La Cruz is often one of the stopping points for attraction shuttle buses.
Things to do in Puerto de La Cruz
One thing you shouldn't miss while staying in Puerto de La Cruz is the impressive Lago Martianez, a huge swimming pool complex. Made up of seven swimming pools, three of which are for children, this leisure complex offers great views out to sea, as well as several restaurants and bars to choose from.
While the pool is great, sometimes you just want to spend a bit of time on the beach. In Puerto de La Cruz there are a number of Tenerife's black sand beaches to enjoy including Playa del Muelle and Playa del Castillo. Or perhaps you'd prefer to spend time on the water with a surf lesson.
And if you fancy something a bit more active and outdoorsy, head up to La Orotava for a hike in the forest. Some of the uphill climbs can be strenuous but the views of Mount Teide and the surrounding area are more than worth the effort.
Where to stay in Puerto de La Cruz
There are some great accommodation options in Puerto de La Cruz, from hotel resorts to self catering apartments. And even if your apartment does have a pool, the popular Lago Martianez swimming complex will be just a short walk away.
Popular hotels in Puerto de La Cruz
Similar Destinations