Cheap Holidays To El Medano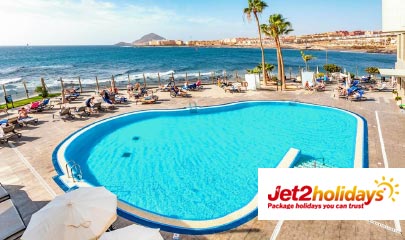 Arenas Del Mar HotelEl Medano
★★★★
🛏 - 7 nights - 2 adults ✈ - Departs Stansted 🗓 - Thu 10th November 2023 🍽 - Bed & Breakfast
From£690per person
View Deal
El Medano Holidays Guide
If you want to be off the plane and by the beach as quickly as possible, try a holiday in El Medano. Popular with wind surfers and kite surfers for its epic beach location, this area of Tenerife's southern coast has more of a chilled vibe, with restaurants serving international food and surf shops dotted along the promenade. Take a look below for our guide to El Medano holidays and check out the latest package holiday deals above or search with our partners.
Getting to, from and around El Medano
Situated in the south of the island, El Medano is one of the closest coastal towns to Tenerife's South airport, about a ten minute drive away. A taxi or hire car is probably your best option. A taxi will cost you in the region of €15-20 each way. In terms of public transport, although there are buses, neither of the main ones run to the airport, so you'll need to take two buses to reach the town from the airport, making a taxi more convenient although more expensive.
The town is quite self contained with mini supermarkets, bars and restaurants, and you could happily spend your whole holiday here. If you did want to head out of town, there are two public bus routes, one of which goes through San Blas, Golf del Sur and Costa del Silencio to Los Cristianos, and takes about 70 minutes to go the whole journey. From there you can either walk or take another bus to nearby Playa de las Americas and Costa Adeje. If heading beyond Los Cristianos, a car, either hired or taxi can be a much more convenient option.
If you've booked a package holiday, especially with the family, shared airport transfers maybe included in the price, or you could add this as you book.
Things to do in El Medano
El Medano beach is what attracts many holidaymakers to the town. The beaches here run along to Playa de Montana Roja and offer the wind and waves to enjoy some of the more adventurous sports like surfing and kitesurfing. Lessons can be booked in advance or at a number of the outlets along the promenade. It's worth booking in advance to ensure availability and you can check reviews beforehand too.
If you're feeling active on your holiday another way to spend a couple of hours is to head up Montana Roja, the red rock which sticks out to sea. This iconic rock is a 171m volcano which offers far reaching views of the area, including El Medano, the airport and out to sea. There's one main trail up to the top from the town.
A 30 minute walk will take you through some of Tenerife's rocky trails to nearby Playa de la Tejita, an expansive stretch of beach with plenty of space. It's worth noting that the far eastern end of the beach, closest to the Red Rock is a nudist beach.
There are two main bus serivces from the town, one which heads up towards Granadilla de Abona and one to Los Cristianos. If you haven't hired a car or can't afford a taxi but want to visit the popular Los Cristianos, Las Americas and Costa Adeje, going by bus is a great option.
Be sure to check El Medano on Trip Advisor for other activities in the area too.
Where to stay in El Medano
There are a couple of hotel options in El Medano and you'll also find holiday apartments for rent too. Try the Hotel Playa Sur Tenerife at the southern end of the town with an outdoor pool, easy access to the beach and many rooms offering a partial sea view. Or the KN Arenas del Mar which is an adults only hotel just a short walk away from El Medano and can be booked through brand like TUI.
While we always recommend booking with an ABTA or ATOL protected holiday provider, you can organise your flight and accommodation separately. The likes of Booking.com has a number of smaller hotels and bed and breakfasts, as well as private, self catering style accomodation.
Even if you didn't want to visit for a whole week, you could easily spend 2 or 3 days here before moving onto another part of the island.
Who To Book With
Who you book with will depend on your departure airport, what type of holiday you're after, and how you want to book. To keep things simple and safe, you can easily get financial protection through the ATOL scheme when you book with TUI to Tenerife, booking a flight inclusive holiday and includes your accommodation plus airport transfers. EASY!
Alternatively, if your best flight option from your local airport is with Ryanair for example, you may wish you book through a tour operator like Love Holidays, On The Beach or Expedia to make sure you still have that protection you need.
If you're booking private accommodation separately, or staying at a friend's apartment, you'll probably want to book your flight separately. Make sure you have valid and comprehensive travel insurance in this instance, otherwise if your flight is cancelled, you might not be able to get the money back for your accommodation.
Reviews When Booking Your Holiday In 2023
Wherever you choose to go on holiday, it's worth checking what people are saying about the destination and here is no different. Reviews of El Medano are very positive with many talking about its laid back vibe, soft sandy beaches and a local feel. It's certainly less touristy than you will find in other parts of Tenerife.
When To Go
The island is a great destination for weather but southern resorts like El Medano are perfect for year round sunshine. As the temperature cools a little in the winter months, it can often get a little windier, making this a fantastic spot for windsurfing. Generally you can expect the temperature to range between late teens to late 20s.
Frequently Asked Questions
What is El Medano like?
El Medano is a great seaside town, close to the airport. You won't find too many hotels here as it has more of a local feel but is popular with surfers and wind surfers for its soft sandy beaches and slightly windier weather.
Is there a bus to El Medano?
Yes, there is a bus that runs to Los Cristianos and one to Granadilla de Abona, but it doesn't go to the airport.
Are the beaches there nice?
The beaches here are soft golden sand, unlike other parts of the island which have traditional black volcanic sand.
Book your holiday
In partnership with

Popular hotels in El Medano
Similar Destinations