Cheap Holidays To Puerto De Santiago
Puerto De Santiago Holidays Guide
For quieter getaways to Tenerife, holidays in Puerto de Santiago are a great option. At the top of Tenerife's west coast, before you get to the hills around Masca are a couple of smaller towns. Puerto de Santiago is one of these small fishing villages between Los Gigantes and Playa de la Arena.
Getting to, from and around Puerto De Santiago
The journey from the Tenerife South airport to Puerto de Santiago will take about 45-50 minutes by car. If you're booked onto a hotel shuttle, this will take longer because of the additional hotels you'll be dropping people off at.
Walking around the small villages here is easy, and even nicer if you take the scenic route along the seafront. If you want to head down the coast to Las Americas and Costa Adeje, you can either take a taxi or a local bus. The 473 bus will take you down to Las Americas in about an hour, so it you've got time to spare and you're keen to save money, it's a good option.
Things to do in Puerto De Santiago
If you want a quieter, more relaxed and local feeing holiday, Puerto de Santiago is the place to come. But that does mean that there isn't as much to do compared to all the excitement and attractions further south. If you fancy a change to the pool, head to the black sand Playa La Arena beach, about a 10 minute walk away.
You'll also be able to book a few of the island's attractions like a day trip up Mount Teide, gawp at the beauty of Masca or head out on a boat trip to see some dolphins. Have a look at hiring a car while you're here too to explore some of the smaller, hidden beaches dotted down the coast.
Where to stay in Puerto De Santiago
Being a smaller town on the island, accommodation options are a little more limited compared to other parts, however there is still a good choice to choose from, including budget friendly apartments to help keep your holiday cheap in Tenerife.
Popular hotels in Puerto De Santiago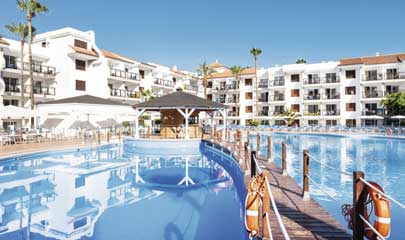 DISCOVER
Suneo Tamaimo TropicalPuerto De Santiago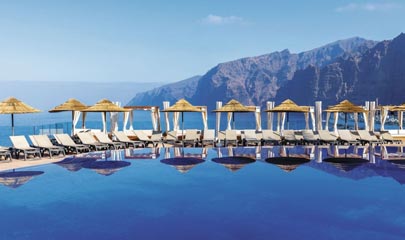 DISCOVER
Barcelo SantiagoPuerto De Santiago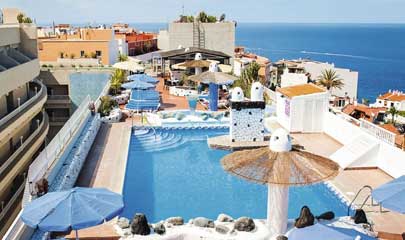 Similar Destinations