Latest Holiday Offers Under £600pp
TUI BLUE Tarida BeachIbiza
★★★★
🛏 - 7 nights - 2 adults, 2 children ✈ - Departs London Luton 🗓 - Tues 10th October 2023 🍽 - All Inclusive
From£542per person
View Deal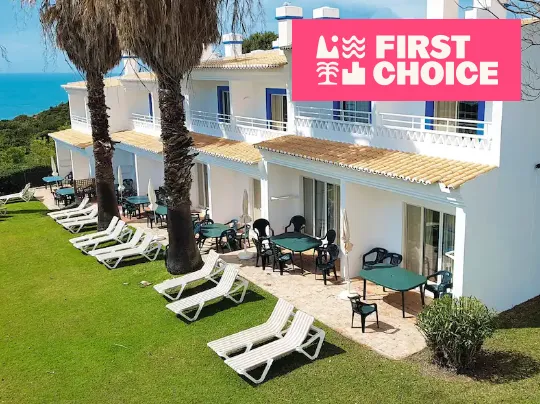 Pestana Palm GardensAlgarve
★★★★
🛏 - 7 nights - 2 adults ✈ - Departs London Gatwick 🗓 - Tues 9th November 2023 🍽 - Self Catering
From£372per person
View Deal
TUI BLUE Alcudia PinsMajorca
★★★★
🛏 - 7 nights - 2 adults, 2 children ✈ - Departs London Gatwick 🗓 - Wed 24th Apr 2024 🍽 - Self Catering
From£432per person
View Deals
A guide to enjoying a holiday for less than £600 per person
Escaping on a much needed holiday under £600 per person can be fantastic. It's a great budget to have. Destinations as far as New York and Dubai are certainly options if that's your budget, but you can also enjoy some excellent European destinations. Five star resorts and hotels like the Titanic Lara Beach in Turkey and Fantasia Baha Principe in Tenerife's Golf Del Sur can be great for a luxurious family holiday.
If you've got a budget of £600 per family, you can still enjoy a holiday in the UK and abroad in 2023 and 2024. Cheap destinations like the Algarve and Benidorm should be on your list of beach holidays abroad, while in the UK, holiday parks can ensure the whole family can escape on a break.
Popular Holiday Destinations Under £600pp

A Guide To Holidays On A £600 Budget
Whether it's £600 per person, per couple or per family, discover where, when and how you can get away with our helpful guide. Let's start with some tips and tricks to stay under budget:
Money Saving Discounts
From free child places to discount codes, there are plenty of ways to save money on your next holiday. Keep an eye out for great deals throughout the year, especially in January, September or November (for Black Friday offers), sign up to email lists and shop around. Not all brands have the same offers.
Self Catering
Booking a self catering escape can help reduce the cost of your trip, but you should keep in mind the extra costs of food and drink while you're away. Apartments with a kitchen can be a great option, allowing you to shop for food at the local supermarket and make your own meals.
Flexibility Is Key
As with anything you're trying to save money on, being flexible is so important. From choosing early morning flights, to a low cost hotel in the suburbs, there are so many great ways to save, but the more flexible you can be the better. And while a last minute holiday could throw up some brilliant savings, booking far in advance can also help you too.

Beach Holidays Under £600
From Great Yarmouth to Gran Canaria, there are some great destinations in both the UK and abroad you should think about for your next holiday in the sun and on the beach.
The Algarve
Whether your budget is per family or per person, the Algarve should be your first port of call. From self catering apartments in Albufeira to five star luxury in Vilamoura, the range of accommodation is perfect whatever your budget.
Costa Blanca
As one of the most popular holiday destinations in Spain the Costa Blanca has long been a favourite for Brits. This stretch of Spanish coast is home to Alicante at its heart, and you'll find so many options for your next escape within your budget.
Antalya
As Turkish resorts, Antalya is a firm favourite. This area is well known for its expansive, family friendly resorts, with numerous swimming pools, entertainment, kids clubs and so much more, with many being right on the beach too.
Greek Islands
Take your pick from a range of fantastic islands in Greece. Some of the more high end or popular ones like Santorini can come at a higher cost, but you'll find some great deals under £600.

City Breaks Under £600pp
If you're staying in the UK, a budget like this will get you a seriously luxurious hotel for a night or two. Why not treat yourself to a theatre break in London with a premium hotel and spa?
Heading abroad, you'll also find some fantastic destinations like Budapest, Barcelona and Berlin. A city break really doesn't have to cost a fortune, and if you're staying closer to home, you might even be able to get a city break under £600 for the whole family or as a couple, especially when flying with airlines like Ryanair or easyJet.
Mid-haul city destinations like New York, Boston, Abu Dhabi and Dubai are excellent for enjoying a bit of culture within your budget and you might just be able to get it under the 600 mark. Be flexible with flight times, stay in budget friendly hotels like the Yotel Times Square in NYC or Ibis Styles Jumeira in Dubai to keep the price low.
All Inclusive Holidays Under £600pp
When you're on a budget, sometimes the last thing you want to worry about is the money that you're spending while away so all inclusive resorts can be a really good option, especially for families. Even half board options can help you keep control of your finances while you're abroad, with many options including buffet style restaurants, ensuring the family can stock up on food for the whole day. Many of the popular brands offer a range of all inclusive holiday deals, with certain suppliers even including things like airport transfers too.
Booking Your Holiday
It's important to stay financially protected when booking your holiday and travelling. We always recommend booking a package with an ABTA or ATOL protected holiday company like TUI, Jet2holidays and Blue Sea Holidays. You can often find that booking your flight and accommodation separately from one another can help save you money, so just make sure you have comprehensive travel insurance in place before you book.
Book your next holiday with First Choice
In partnership with

Free Child Places
You can keep the cost of family holidays down by booking a break with free kids places. It varies from hotel to hotel, with children over certain ages not qualifying for the discount, but often when two adults share a room with a child, that child can go free. Check the booking conditions with the tour operator, travel agent or hotel before you book.
Frequently Asked Questions
Holidays can be cheaper at certain times of the year. When booking, times like the January sales or Black Friday can give great discounts. Travelling outside of school holidays can also be cheaper.
There are lots of opportunities to get discounts of your next getaway. Try promo and discount codes, free child places, early booking discounts (EBDs), travelling outside of school holidays and many more.
Mid and longhaul destinations like the Caribbean, Mexico, Thailand you won't be able to reach on a £600 budget.
Popular Holidays