All Inclusive Holidays From Belfast
Cheap all inclusive deals from Belfast
If you're dreaming of a getaway that is convenient and fully loaded, you've landed in the right place. In this guide, we'll embark on a journey through the top all-inclusive holidays from Belfast, explore the best companies offering these packages, and ensure you're well-prepared for takeoff from both Belfast International Airport and Belfast City Airport in 2023 and 2024. Your all inclusive package will include all meals in at least one restaurant at the resort, as well as drinks during meal time, as well as flights, but from there, any other extras may cost more depending on the tour operator you book through, so always check what is and isn't included before you pay.
Popular Holiday Destinations From Belfast

Top All Inclusive Holiday Destinations
The Algarve, Portugal
The Algarve, Portugal's southernmost region, beckons with golden beaches, charming fishing villages, and a rich culture. Often known for self catering villas and apartments, opt for an all-inclusive holiday here, and you'll find yourself indulging in local delicacies, enjoying fantastic hotel facilities like waterslides, kids' clubs and luxurious spas, and soaking up the Mediterranean sun.
Lanzarote, Spain
Kick off your shoes and step onto the sandy beaches of Lanzarote, where volcanic landscapes meet crystal-clear waters. This Canary Island gem is a favourite among all-inclusive seekers, offering a blend of relaxation and adventure. Dive into the Atlantic, explore Timanfaya National Park, or simply bask in the year-round sunshine, ideal for a winter sun holiday.
Tenerife, Spain
Escape to Tenerife, where perpetual springtime welcomes visitors year-round. This Canary Island paradise pairs volcanic landscapes with lively resorts, making it an ideal all-inclusive destination. Whether you're drawn to the vibrant nightlife of Playa de las Americas or the serenity of Teide National Park, Tenerife has something for everyone.
Crete, Greece
Indulge in the magic of Crete, Greece's largest island, where ancient history meets sun-soaked beaches. While all-inclusive holidays to Crete provide an opportunity to relax by the pool, be sure to get out and explore Minoan ruins, stroll through charming villages, and savor the Mediterranean cuisine that has stood the test of time.
Antalya, Turkey
For a taste of luxury on Turkey's Turquoise Coast, Antalya is the perfect destination. Boasting historic charm, vibrant markets, and pristine beaches, Antalya offers a diverse range of activities. All-inclusive packages ensure you can savour Turkish delights and unwind in opulent resorts like the Titanic Lara Beach Hotel.
Dubrovnik, Croatia
Discover the allure of Dubrovnik, Croatia's crown jewel on the Adriatic Sea. With its well-preserved medieval architecture and stunning coastal views, Dubrovnik is a captivating destination. All-inclusive packages here are a bit limited, but you can easily combine beach and city break in this popular Adriatic location.

All Inclusive Holiday Companies
Choosing the right company can make or break your all-inclusive holiday experience. Fortunately, Belfast offers a variety of options to suit every traveller's preference and budget. Here are some top companies to consider:
TUI
TUI, a renowned name in the travel industry, provides a range of ABTA and ATOL protected all inclusive holiday packages from Belfast. With a focus on customer satisfaction, TUI ensures seamless travel experiences, combining flights, accommodation, and often airport transfers into easy packages from Belfast airport. Take a look at the last minute deals available for some great offers.
Jet2holidays
Jet2holidays is another fantastic option for those departing from Belfast. Known for its excellent customer service and diverse destination offerings, Jet2Holidays caters to different travel styles, whether you're seeking family-friendly resorts or adult-only escapes. Choose a villa holiday with Jet2 and you'll also get car hire included within your booking.
Thomas Cook
Thomas Cook, a trusted name with a long history in the travel business, offers all-inclusive holiday packages departing from Belfast. Their extensive network and partnerships ensure a wide array of destination choices, from beachfront favourites like Benidorm and the Costa del Sol, to culturally rich cities like Prague.
Expedia
For the DIY enthusiast, Expedia provides a platform to customise your holiday. Select flights, hotel, and activities to build your ideal getaway, all while enjoying the convenience of bundling everything in one place.
Booking.com
Booking.com, known for its extensive hotel options, can be a good option to split up your flight and accommodation, booking things like Wizzair or Ryanair flights separately. While you might have much more choice, your holiday won't be protected by the ABTA scheme so make sure you have comprehensive travel insurance in place when you book.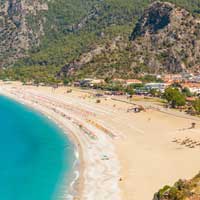 Flying From Belfast
There are two airports in Belfast you can fly from, however, one is better than the other for beach destinations like the Canary Islands, the Greek Islands or Cyprus.
Belfast International Airport
Belfast International Airport, located just 18 miles northwest of Belfast City Centre, stands as Northern Ireland's main airport. Boasting a wide range of airlines and destinations, it provides a convenient starting point for your all-inclusive adventure.
Equipped with modern facilities, Belfast International Airport ensures a smooth journey from check-in to takeoff. Enjoy shopping at the duty-free stores like JD Sports and Aelia Duty Free, savour a pre-flight meal at one of the restaurants like Sip & stone, and relax in the lounges before boarding your flight to an all-inclusive paradise.
Belfast City Airport
For those preferring a more intimate airport experience, Belfast City Airport, situated just three miles from the city centre, offers a convenient departure point. Despite its smaller size, this airport provides a comfortable and efficient travel environment, however, you won't have anywhere near as many holiday options.
Navigating through Belfast City Airport is a breeze, allowing you more time to relax and prepare for your upcoming holiday. Grab a snack at one of the eateries, take advantage of the Wi-Fi, and board your flight with ease.
Popular Hotels From Belfast
More Popular Holidays