Find Your Ideal Holiday With
Latest easyJet Holidays Offers
Our Guide To easyJet Holidays
Book your package holiday with easyJet Holidays in 2021/2022 and enjoy flying one of the best reviewed low-cost airlines, along with ATOL and ABTA financial protection for your next break. With loads of destinations to choose from including Greece, Costa Blanca, Algarve, Tenerife, Majorca and many more, and from UK airports including Bristol, Manchester, Liverpool and Edinburgh, you're spoilt for choice.

Where do easyJet Holidays go?
easyJet holidays flies to hundreds of destinations across Europe, from top cities to popular beach resorts and some hidden gems too. Here are a few of our favourite easyJet Holidays destinations:
Greece
From Athens to Zante, Greece is an ideal destination with easyJet Holidays. You've got plenty of islands and resorts to choose from whether you're looking for a family holiday with all inclusive meals and kids clubs, or a quiet getaway, perfect for couples looking to relax. Try islands like Kefalonia, Santorini, Rhodes and Zakynthos.
Spain
Of course, there are loads of destinations within Spain that are great for a holiday with easyJet. From islands like Tenerife, Gran Canaria, Majorca and Ibiza, to the mainland resorts of Benidorm in the Costa Blanca and Benalmadena and Marbella on the Costa Del Sol. And don't forget top cities including Barcelona, Seville and Valencia. For some winter sun, take a look at the Canary Islands like Lanzarote and Fuerteventura if you fancy a bit of sunshine in December and January.
Turkey
easyJet Holidays flies into four destinations in Turkey, Izmir, Bodrum, Dalaman and Antalya which means you've got a huge choice of holiday areas to choose from including Marmaris, Icmeler, Kusadasi and Olu Deniz. Turkey is excellent for self contained all inclusive resorts, with top facilities.
Italy
Italy enjoys the best of all worlds. From the beaches of Sardinia to the mountains of the Alps, Italy offers all sorts of holiday types. Fly into Milan for access to the slopes of northern Italy and enjoy a fantastic ski holiday in winter, or head to Florence and discover the rolling hills of Tuscany. Alternatively, for those who enjoy city breaks, try Rome for it's incredible gelato, ancient history and stunning attractions or Venice for it's epic scenery. And don't forget Naples for the classic Italian pizza.
Portugal
A holiday in Portugal can vary from a cultural city break in Lisbon or Porto, a beach holiday in the Algarve or a more adventurous holiday in Madeira, each one offering something unique. Popular beach areas like Vilamoura in Quartiera, Albufeira and Lagos are all worth checking out for your next summer holiday.
UK
Don't forget about holidays in the UK either. Most people haven't seen a lot of their own country and whether that's discovering the Scottish Highlands on an adventurous holiday, discover the beaches and island life on a holiday to Jersey, or maybe it's just exploring a new city like Edinburgh or Belfast.

Where do easyJet holidays fly from?
You can fly from over 15 airports in the UK with easyJet, so not only can you fly from larger airports like Gatwick, Edinburgh and Manchester, with airports like Glasgow, Bristol and Southend, means you can fly from your local airport to loads of destinations.
Other airports include Luton, Newcastle, Liverpool, Isle of Man, Inverness, Aberdeen, Southampton and Bournemouth, although easyJet only flies to selected destinations from smaller airports, including domestic UK destinations or season specific destinations like Corfu and Crete in the summer, and Geneva and Salzburg in the winter.

Why book with easyJet Holidays
Booking an easyJet Holidays holiday means you are financially protected through the ABTA and ATOL schemes. Plus when booking a package holiday directly, you'll get your accommodation, flights, and 23kg of luggage per person included. If booking a beach holiday, you'll also get your airport transfers included in the price. As with all package holidays, make sure to check the terms and conditions to see what is and isn't included, along with the relevant refund policy.
Most holidays including holidays in 2022 can also be booked with a low deposit of just £60pp, allowing you to pay monthly over a period of time for your holiday. Payment methods include Mastercard, American Express, Maestro and Visa.
easyJet Holidays promo and discount codes
Promotional and discount codes with easyJet holidays maybe available online to help reduce the cost of your holiday. Check on voucher and promo code sites or easyJet Holidays may already take off the discount when you go to book. If you're booking a family holiday, you may also be able to take advantage of easyJet Holidays free child places.
Free child places may also available during the peak holidays of April, July, August and October, although they do get booked up early to check for 2022 when flights are released. Another great way to save is by booking all inclusive to keep your budget under control and not have to worry about spending too much on holiday. There are plenty of holiday deals when searching for a holiday, particularly during the off peak times of February, March, May and September.
Popular Destinations
Contact easyJet Holidays
There are a number of ways to contact easyJet Holidays. Check out their 'Contact Us' page for the best way to get in touch. Their UK telephone number is closed at the moment due to the Coronavirus situation, while you may be better to contact them via social media such as Twitter or Facebook. There is also a online chat function on the website, which may be able to answer your questions. To contact by email, their email address for customers is customer.support@easyJet.com.
Booking Terms & Conditions
As with all package holidays, you should always check the terms and conditions before you book as it may vary from destination to destination. When booking your holiday with a deposit, you can make regular payments and pay off the total cost of your holiday over time, with the full balance due at least 60 days prior to departure.
Name changes may be possible. The name change fee starts from £60 and increases depending on whether suppliers such as hotels also charge a fee, as well as how far in advance you make the name change as changes cannot be made less than 7 days prior to travelling.
For the latest cancellation policy, please check directly with easyJet Holidays. If you have paid a deposit and are cancelling more than 60 days before travel, you will lose your deposit (all other monies paid should be refunded). If you or your booking has been affected by coronavirus, they have a full change and refund policy on their website.
How To Cancel
If you wish to cancel your holiday, you should contact easyJet holidays directly to do so, as each situation may vary and cancellation fees can vary too.
easyJet Holidays Frequently Asked Questions
Some holidays can be paid monthly over time with easyJet Holidays, however, not all holidays can. Some may need to be paid for in full at the time of booking due to flight and hotel commitments which have allowed the price to be what it is.
Yes, easyJet does package holidays under the easyJet Holidays brand.
Yes, easyJet Holidays are both ABTA and ATOL protected.
easyJet Holidays Manage My Booking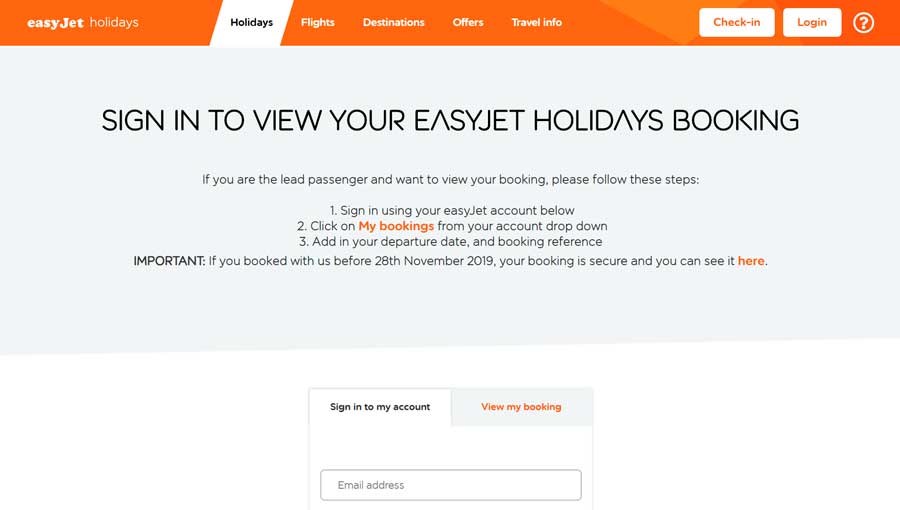 Customers can login to the easyJet Holidays website and check their booking through the Manage My Booking section of the site. Simply sign in to your account and provide your booking reference. Here you can review your booking and add extras such as booking seats, as well as changing your booking, although you may need to contact easyJet Holidays in certain circumstances.
easyJet Holidays & Coronavirus
As with all holiday companies, easyJet holidays has been affected by Coronavirus, so if you have a booking with them, you should check the cancellation policy of your holiday.
easyJet Holidays Reviews
easyJet Holidays generally have strong reviews online. Customer experiences may have changed due to the coronavirus as easyJet Holidays has had to furlough staff, and close it's contact centre while it helps rebook existing customers.
Book your next getaway with easyJet Holidays
In partnership with

Check out these great hotels with easyJet Holidays